"A lot of things we never can imagine are happening in the terminals"
In this interview with Shipping Position Daily, the Coordinator of Nigerian Port Process Manual, Mr Moses Fadipe speaks on the challenges of ensuring a well-structured and process-driven port operation.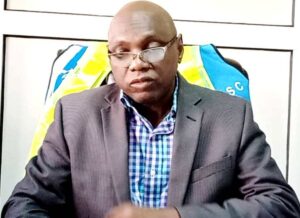 What is the Nigerian Port Process Manual all about?
The Nigerian Port Process Manual is a document meant to bring a level of sanity to the port system. In 2016, the Vice President of the Republic of Nigeria launched the Standard Operating Procedures. These are the activities of all stakeholders in the port that tells us who they are, what they do and how they do it. After the launch, there is another platform called the Port Service Support Portal where any infraction recorded from the SOP will be addressed. These SOPs were given to different agencies to run by it and they have started running with it from 2016 up to 2019. You know we also have Transparency International that rates each country in terms of corrupt practices. In 2019, Nigeria was rated 26 per cent. Remember we had Executive Order 001 on Ease of Doing Business 2017, to aid whatever policy the government has put in place to reduce corruption. So the Ease of Doing Business with the SOP was rated 26 per cent in 2019 which made the Government hopeful that things will improve. But in 2020, it went down again. The question is – what could have been responsible; despite all that was in place. We went to the drawing board by looking at the gaps in the SOP. It was later discovered that the timeline was omitted which was very critical. This answers the question of what time frame must complaints be acknowledged, investigated, and completed. These are what the SOP did not specify and now the Nigeria Port Process Manual (NPPM) has come to fill this gap. The SOPs are still the same activities in the NPPM, but it now includes a timeline. This means that when I approach you as a service provider and I do all my duties as a customer, the NPPM specifies the timeline. That is the essence of the NPPM.
Can you explain the composition of the NPPM Implementation Team?
Before I go that, you will agree with me that the SOP is for all maritime stakeholders. I mentioned earlier that in 2016, it was left for everyone to run until the NPPM came into being. At the launch of that document on the 9th of December, 2020, the government in their wisdom felt that somebody must monitor this document; that was at the Presidency level. The industry was looked into to see who is most neutral and what are their functions. Nigerian Shippers' Council was looked at as not only the Port Economic Regulator, but in addition, a little bit neutral. They also looked at an agency that must be audited and not you auditing your case. It was pushed back to the Ministry of Transportation being its purview and the Ministry of Transportation suggested the Nigerian Shippers' Council and the Presidency agreed to appoint NSC as the lead agency to drive the monitoring and ensure compliance to the provisions of the Nigerian Port Process Manual. Having gotten the appointment, the NSC looked at where its law stops, because of the compliance and enforcement aspect of it. They had to approach the Independent Corrupt Practice and Other Offences Commission (ICPC), who has the power of arrest, prosecution, and sanction. That was how the Chairman of the ICPC formed the Port Standing Task Team with the NSC as the lead agency and the ICPC and DSS as members. The Nigerian Port Authority was later brought in also; being the landlord of the port. These are the agencies responsible for the monitoring and enforcement of the Nigeria Port Process Manual.
What level of cooperation does your Team enjoy from government agencies in the port?
Before it started operations on the 3rd of March, what we did first was to embark on an aggressive sensitisation drive. It will interest you to know that we visited all the commands of the agencies in the port from Customs to the least person you could expect. We visited the Managing Directors of all terminals in the port, shipping companies, bonded terminals and holding bays, to let them know about the existence of the NPPM, the essence of the task team, and the assignment given to the task team. We sought their cooperation, because we believe that together we can make it happen. Thereafter, we commenced our operations. So far so good, we're having tremendous support from them.
What about the private sector players?
I want to let you know that it is a mixed feeling; in the sense that nobody wants to be regulated. They see it as if you are poke-nosing into their affairs, but little did they know that we're even trying to help them for their operations to go on smoothly. When we started, we had a lot of resistance from the terminal operators; especially APMT. But today, the rest is history. No terminal will dare disrupt or obstruct the line of duty of the Task Team because they know the consequences. So they are fully cooperating as we speak. The shipping companies that feel they are above the law, have already known as seen what the Task Team is all about.
How will you describe port operations in Nigeria?
Well, I'm a Nigerian, but we do go out and see what's happening in other climes. We need to brace up seriously. For example, today, ports are in competition. The ports in Nigeria, Ghana, Cotonou, Togo-Lome are in competition. So as a customer, you'll have a preference for the ports. Sometimes when I look at the fact that people complain that some are thriving in smuggling. They will go through Cotonou and bring their cargo in and we put more energy into policing our border stations, whereas we could have put some things in place that could attract people to come and use our ports. What is the cargo dwell time in Nigeria – 21 to 22 days? Meaning that the average time it will take me to clear my cargo out of the port is 21 to 22 days. Whereas in Cotonou, it is only 7 days. The meaning is that, if I decide to say my cargo from Asia, Europe or America should be taken to Cotonou, and when it gets to Cotonou, I'll clear it within three days. On the fourth day, I can go to Idiroko or Seme border and still pay my legitimate Customs duty and be in Nigeria. On the fifth or sixth day, if I'm transporting to the North, South or East, I'm already in my warehouse. Whereas in Nigeria, it will take an average of 21 days to get it cleared. Look at the charges and demurrage for those 21 days. So tell me why I would not have a preference for Cotonou port than Nigerian port? and I'm not a smuggler because I paid my legitimate dues. So all we are saying is we should look at how we can reduce the congestion in our ports in terms of the vessels and terminals congestion. Some people would even say their containers have been blocked-stacked and they have been looking for it for about 3 to 5 days before they can find it. Who bears all these liabilities at the end of the day? It is you and I. Then tell me why there will not be inflation and the cost of doing business going up. We still have a lot to do in terms of our port system.
Your Committee submitted a damning report on compliance with NPPM. Why?
What we submitted was what happened within those nine months. We were objective on what we submitted. Everything we said on that day, the records are there for you to come and dig further and verify whether it is true or false. In that report, we looked at it holistically on what the Manual asked us to do against incidences right from the arrival of the vessel to the departure of the vessel, up to terminal operations and the Customs clearance of cargo, looking at what aspects need improvement. But our joy is that in the area of the waterfront where the vessels are, the achievement is over 85 per cent now. This is because the issue of 'souvenirs' from ship master and crew, exchange of money on board, unnecessary allegations and extortions have gone down drastically. The Captains now have a positive story to tell about Nigerian waterways. They know there is a place to report any infraction. It is either you go to "pssp.ng" or [email protected] You can even go by phone call. There is a WhatsApp platform where as it is happening on board your vessel, we are communicating with you live and direct. Now, the Customs sends to us what they call the Pre-Arrival Notice, unlike before. This means that as I sit down here, I can show you all the vessel movements on our waterways; from my system. Even when the Customs and other agencies are coming on board and there are problems, the captain is already alerting us, we can see everything going on and we are ready to talk to them. We have got to that level which is very encouraging. For that activity alone, we have saved our ports over N3.2billion on what would have gone down the drain as demurrage on vessels. What we are looking for now is how to institutionalise and sustain all those processes so that They can be there for life. That is in the area of vessels. We are moving to the area of terminals now for joint examination. It is not in our purview, but that of the Nigeria Customs Service to coordinate the joint examination of cargoes. What we are doing is to monitor the processes of their activities. As I speak with you, it is a thing of the past that anybody can enter an examination bay and nobody knows who you are. But today, before you can enter an examination bay at APMT specifically, you must register yourself. We are making it happen and we adhere to the timeline of 9 am to 4 pm. The examination must start at 9 am and end at 4 pm. This means that containers must have been positioned overnight before 8:30 am, unlike in the past where positioning will end by noon and examination starts by 12:30 and they can be there till 7 pm. It is not easy to achieve this because we have a lot of people in our facility and it is happening every day. All we need is your prayers.
What is the level of compliance by terminal operators?
The terminal operators, still have a lot of things to do. A lot of things we never can imagine are happening in the terminals. For instance, in Apapa apart from APMT, I make bold to say others that have to do with containerised boxes do not have an enclosed space carved out for examination. Some of them even examine at the quay side which should not be. For this interview, I might not shame any terminal for now. But I expect that since the Minister of Transportation has our report, they are in the best position to name and shame. The question we are asking ourselves is that, since 2006 when these terminals were concessioned, what improvements have been done about their activities? We have let the authorities know, something has to be done about it. Asides from that, we still record issues of pilferage in the terminals. They said they are ISPS Code-compliant, how come all these are still existing? Who did they report to and to what extent are they on top of their game? We are doing the necessary recommendations within the purview of the task team. They should know that somebody somewhere is watching. They should up their game and ensure that they raise their standards to compare with what they have outside this environment.
It appears that the shipping lines operating in Nigeria are untouchable. Aren't they?
You know there are times the regulator might decide to adopt the "Carrot and Stick" approach and there are times they adopt a participatory regulation approach, instead of a policing regulation. Participatory in the sense that you'll carry everybody along. While policing is waiting at a corner and allowing the person to cross the line and descend on him. The NSC has not been participatory along the line, but some of those who felt they are recalcitrant are being dealt with. The records are there. If you want to see the records, we can show you. Recently, CMA-CGM who felt they are above the law was made to do the needful. After doing the needful, they ran to the Court. The case is currently in court, so I might not be able to delve into it. That tells you that if some people feel they are stubborn, there are ways to put them in check. Others are taking a cue from it. They saw what happened and they are already putting things in place and putting their house in order, so that such will not happen to them. It is an ongoing process. What we appeal to people is that whenever you see things that are not right, alert us and we will look at them. Most times, whenever people run to us, they are not always right. We let them know where they are getting it wrong, but when they are right, we ensure that we get them all their benefits to the extent to which they are justified
Do you share the belief that the Nigerian Port System is corrupt?
If you look at our port system, it is very porous and anywhere you see porosity, it is bound to be followed by negativity. All these are what I'll call "under the table activities". People are going there for survival every day. That is why we are saying until we try as much as possible to digitalise and automate our processes to reduce the influx of people, we might not be able to nip totally, the issue of corrupt practices.
Kindly like us on Facebook