The timing couldn't be worse: with consumer demand lethargic and inventory stocks stubbornly high, ocean carriers are preparing to receive an armada of newbuild ultra-large container vessels (ULCVs) in the coming weeks.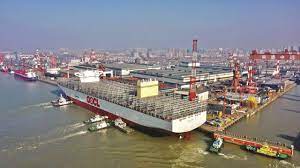 Due to weak demand on the main east-west tradelanes expected to last through to the second half of the year, carriers could be obliged to postpone the maiden calls of some of these ULCVs before phasing them into liner service networks later in the year.
According to Alphaliner, there are numerous 24,000 teu ULCVs nearing completion at Asian shipyards, including the 24,000 teu ONE Innovation and 24,116 teu MSC Tessa, as well as the 24,188 teu OOCL Spain, which was delivered last week.
"From mid-March to early April, MSC alone will phase in no fewer than four 24,000 teu newbuilds to the Asia-Europe network of the 2M partnership," said Alphaliner.
According to the consultant's data, MSC is scheduled to take delivery of MSC Tessa on 14 March to be deployed on the 2M's Asia-North Europe AE6/Lion loop from Ningbo, followed by the 24,346 teu MSC Irina, which is stemmed to join the Asia-Med AE10/Jade service from Qingdao on 21 March.
On 28 March the MSC Celestino Maresca will join the AE6/Lion loop and on 9 April MSC Raya will commence its maiden voyage on the AE55/Griffin loop from Shanghai.
It means the title of biggest containership, in terms of capacity, will change hands several times, briefly regained from MSC by the 24,188 teu OOCL Spain before changing again with the arrival of the 24,346 teu MSC Irina in mid- to late March.
Alphaliner says filling these new behemoths "could be a tough challenge" for 2M partners Maersk and MSC with some maiden voyages at risk of being blanked.
The consultant said the 15,413 teu Maersk Canyon's maiden voyage was to have been from China on 1 March on the 2M's AE1/Shogun loop. But the service has been blanked for weeks during December, January and February and, according to Alphaliner, is "effectively suspended" and the ship's maiden trip deferred until mid-May.
It noted that the newbuild 15,264 teu MSC Sofia was also stemmed for deployment on the AE1/Shogun loop but instead will now phase into MSC's new standalone Falcon Asia-India/Middle East service on 27 February.
MSC alone is scheduled to receive a massive 33 newbuild ships, ranging in size from 13,000 teu to 24,000 teu, this year.
"Presumably, MSC will try to channel much of its fleet growth into new standalone loops outside the 2M as the carrier prepares for the end of the VSA with Maersk in late 2024," said Alphaliner.
shippingposition
Kindly like us on Facebook/twitter