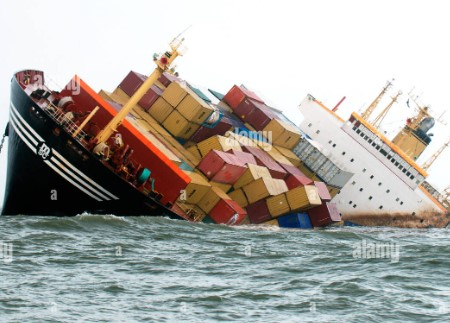 Russian Fish Factory fire, 65 crew evacuated
Fire erupted on board of Russian fish factory YUGO VOSTOK 1 at around 0120 Seoul time May 19 at Busan port, where the ship is presently docked, probably undergoing repairs. 65 crew left the ship, no injures reported. Massive fire fighting force responded, by 0710 Seoul time fire was either under control, or extinguished.
Chinese longliner with 39 crew capsized in Indian ocean UPDATE
Crew consists of 39 fishermen, including 17 Chinese, 17 Indonesians and 5 Filipino, all are understood to be missing, China sending available forces to facilitate SAR.
Fishing vessel LU PENG YUAN YU 028 with 30 crew at 0900 UTC May 16 spotted capsized in Indian ocean south of Maldives. No news on crew fate so far. Vessel left Cape Town on May 3, destination probably Busan.
Russian freighter disabled, on tow, Pacific
General cargo ship VIKTORIYA encountered understood, mechanical issue, shortly after midnight May 15 in Fourth Kurilskiy Strait, while en route from Vladivostok to Petropavlovsk, with ETA May 16. The ship was under way again in some 2 hours, but after entering Pacific ocean, interrupted voyage and anchored off Paramushir island east coast, at around 1440 LT May 15. Tug SPRAVEDLIVYJ (IMO 7808279) responded and left Petropavlovsk at night May 15. As of 1615 LT May 16, was approaching VIKTORIYA.
Capesize bulk carrier in load hard aground, Brazil
Capesize bulk carrier TRUE CONRAD ran aground between islets Grande and Marambala, Itaguai, Brazil, in the morning May 10, while leaving Itaguai with cargo of ore, bound for Singapore. Still aground as of May 17, with at least 1 tug responding. Extent of damages unknown, she might be breached judging from starboard side list she developed, though it might be the result of tides.
Follow us on Facebook/ twitter