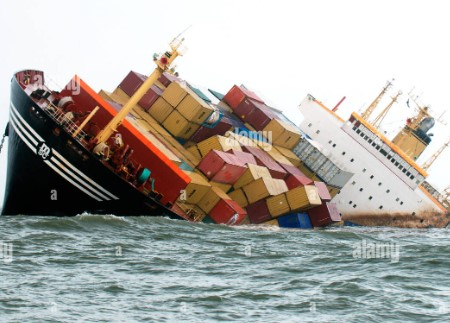 French tourists airlifted to safety after vessel grounding, Arctic
Tour vessel M S ISBJORNEN 2 with 12 French tourists and 3 crew on board ran aground in Borebukta, Spitsbergen, Arctic, in the evening May 22. All 12 tourists were airlifted by helicopter to safety, vessel reportedly suffered hull breach followed by oil leak, she developed starboard list. Vessel was refloated early in the morning May 23 and as of 0450 UTC May 23, is understood to move under tow to Longyearbyen. M S ISBJORNEN 2 ran aground in the same place a year earlier.
May 23 0500 UTC UPDATE: She's on tow of Coast Guard patrol ship NOCGV SVALBARD, caravan took starboard turn at around 0430 UTC and is sailing in SW direction, destination unclear, vessel's condition probably deteriorated.
Tanker and dry cargo ship troubled in Bosphorus
General cargo ship CPT AHMAD II suffered engine failure early in the morning May 22 near Sultan Selim Bridge, northern Bosphorus, while transiting the strait in northern direction, en route from Yalova to Reni Ukraine. Tug responed, the ship was taken to Buyukdere anchorage, Bosphorus. As of 1415 UTC May 22, the ship remained in the same position.
Tanker BEAUTY QUEEN encountered mechanical issue in the afternoon May 21 off Genkelkoy, Bosphorus, while transiting the Strait in southern direction, en route from Romania to Lebanon. Tanker was assisted by tug and safely reached Ahirkapi Anchorage, Istanbul, Marmara sea. As of 1400 UTC, remained in the same position. Traffic wasn't affected.
Cargo ship in trouble in Med after cargo shift
General cargo ship EVLOGIA suffered engine failure and went adrift in Mediterranean sea some 45 nm southeast of Karpathos at around 1800 UTC May 26, while en route from Damietta Egypt to Reni Ukraine. Later the ship encountered another problem caused by uncontrolled pitching and rolling – her cargo of salt shifted, so most probably, she developed list, maybe critical. Several nearby ships approached EVLOGIA with 11 crew on board, and are on standby. AIS is still on.
Bulk carrier aground in Suez Canal UPDATE refloated
Refloated at around 0440 UTC, Canal transit cancelled, the ship towed back to Red sea. Was under tow in Suez Anchorage area as of 0715 UTC.
Bulk carrier XIN HAI TONG 23 ran aground at around 0100 UTC May 25 in Suez area, shortly after entering Suez Canal from Red sea, en route from Duba Saudi Arabia, destination unknown. As of 0400 UTC May 25 was still aground, seemingly stuck in embankment by stern, with several tugs around, Understood traffic is blocked.
Follow us on Facebook/ twitter