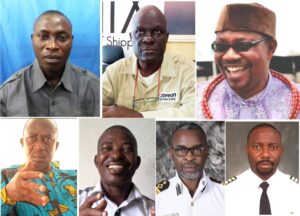 Engineer Alalade Matthew (Former President, Merchant Navy, and Water Transport)
We have not positioned ourselves for employment. First, in Nigeria, there is no vessel for our people to train and to get employed. There are not vessels as we used to have in the '70s and '80s. Secondly, the unemployment rate of seafarers is global and not only in Nigeria. Those are the two major causes. But why it is alarming now is because we don't have vessels to train seafarers or for them to get engaged.
Captain Tajudeen Alao (President, Merchant Mariners)
The issue of the high rate of unemployed seafarers is both global and local. Globally, the economy is down and 90 percent of world trade is by sea. There are no spaces for new tonnage from the PPI statistics. We don't have international and coastal ships on our flags. We only have oil and gas providing services offshore. The Cabotage law is supposed to capture this area where our people can be trained and get employment. Unfortunately, there are certain special courses required by this oil and gas that were not available locally but now they are available. If we try to guide our Cabotage law judiciously, more of our people will get employment. Unless we have a national carrier that engages our people, we will have no place in international shipping. We must be on top of our game in this area. We shall be there if we are serious and focused.
Captain Tony Onoharigho (President NIS)
NIMASA never allowed the seafarers the opportunity to be paid like foreign seafarers. Assuming they are being paid like their foreign counterparts, the industry would have been booming. They should make sure that they compel the ship owners to compare their contract with Nigerian seafarers to that of the foreign seafarers. They should use IMO standard of employment.
The problem is that the seafarers in Nigeria are not treated right. They are being treated roughly and marginalized. Seafarers do not see the parents, wife, and children for months and they give them peanuts as salaries. The money they pay Nigerians compared to other countries like the Philippines and India is more than 300 percent difference because they are paid in dollars. This is unfair.
Captain Thomas Kemewerigha
The issue is political. These foreigners that are coming to take over our jobs are not operating outside our Cabotage regime. They are just giving the excuse of certification. How many ships do we have under the Nigerian flag? How many Nigerians are working onboard? NIMASA said they don't grant waivers then why are the foreigners working? who is granting them waivers to work? I want to believe that Nigeria's so-called ship owners don't own ships. They are paper directors of international ship-owners. The job is in Nigeria and not where they are coming from. We don't have the vessels and our banks don't grant them loans any longer to buy ships. Unemployment is global. NNPC is not helping matters. They give jobs meant for Nigerian ship owners to foreign ship owners. This is a current pathetic situation and we don't know when we will get out of it.
John Okpono (General Secretary, NMOWTSSA)
The whole economy is being affected; there's unemployment in all sectors. Even in all other sectors. Unemployment is a global issue. It is well pronounced. Nigeria is a maritime nation that doesn't have a national carrier. Nigerian seafarers look for jobs around the few available opportunities in the industry and even outside the industry. Nigerian seafarers are unemployed because we don't have vessels of our own.
Engineer Bob Yousuo (President, NMOWTSSA)
I can tell you categorically that our seafarers are suffering, we are not well paid compared to our neighboring country, only 20% of Nigerian seafarers are well paid. Nigerian seafarers are the strongest and intelligent and hardworking. When you don't pay your seafarers who have worked for several months, what do you expect them to do?
Seafarers worked tirelessly during Covid-19 last year but there is nothing to show for it, seafarers are still suffering, how can you owe a seafarer for 10 years, no good food, no electricity on the ship. It is unfortunate that NIMASA's inspectors are going around but they are ignoring these anomalies.
Captain Eniosuoh Waredi
In recent times, there has not been a regular crew change after the outbreak of COVID 19. It is not just Nigerians seafarers only, even pilots are now falling out of jobs. The high level of automation creeping into ships has also reduced the minimum manning skill of ships resulting to a reduction in the number of crew members on a ship.
Nigerians Certificates are not internationally recognized because they are known for forged certificates. It is also very difficult to verify the authenticity or genuineness of these certificates possessed by Nigeria Seafarers.
Kindly like us on Facebook