Oluyinka Onigbinde
Women's International Shipping and Trading Association (WISTA) Nigeria has identified innovation and digitisation as instruments for sustainable shipping in the country.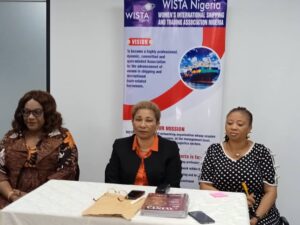 Speaking on Thursday during a press conference ahead of the 2022 annual WISTA Business Luncheon and Magazine launch, with the theme; "Innovation and Digitalization for Sustainable Shipping", the chairman of the 2022 business luncheon Mrs. Rita Egbuche stated that shipping is big business that need to be harnessed.
She added that the business luncheon billed to hold on the 29th of September 2022, will center around innovation and digitalization and how it would better position the nation's maritime sector for profitability and seamless operations.
According to her, "shipping is a big business and we have to look at key areas that can guarantee sustainable shipping. A lot of businesses thrive on shipping, so we have decided to look at innovation and digitalization which is about bringing new ideas for efficiency and sustainability. Innovation and digitalization will curb the losses, delays and spur maritime businesses, hence, our focus on this topic."
"We would have panelists also discuss the topic from their various areas of expertise. An expert in Maritime Tourism will highlight sustainable development and innovations in this area; while another person will speak on Marine Environment and the last speaker on Safety issues"
She further informed that the programme will also feature an award segment with certain individuals already identified for celebration as a result of their support for women in the nation's maritime sector.
Speaking earlier, the President of WISTA Nigeria, Mrs. Eunice Ezeoke, while highlighting some of the challenges confronting women in the shipping sector, noted that finance is a major problem, but she said that with the increasing role of Nigerian Export-Import (NEXIM) Bank and the African Export-Import Bank (AFREXIMBANK), women will have better access to finance.
Ezeoke said that the industry experts would deliberate on critical innovations to enhance maritime tourism and safety, among other pertinent shipping issues.
"WISTA is a women professional association that is in 58 countries, involving women in management positions in the maritime industry, and it came to Nigeria in 1994.
"It is about women promoting gender inclusivity in the industry, creating feasibility, capacity building, networking opportunities and career advancement in the profession.
"Annually, WISTA organises a business luncheon which is part of sensitisation in the industry and even outside the industry.
"Over the years, we organised lectures to teach our members," she said.
She said that partnerships, research findings and how to make shipping and international trade better, safer and cheaper would be discussed at the event.
On women involvement in the industry, Ezeoke said that the industry needed more women as their level of participation was still low.
"We need more opportunities and leverage so that we see how far and good women can perform and manage businesses in the shipping sector," she said.
In her remarks, the Vice President of WISTA Nigeria, Mrs. Anna Akpan, urged industry operators to create more opportunities for women in the sector, even as she maintained that women also have to develop themselves to be competent.
Kindly like us on Facebook/twitter