The ship named "Hai Yang Shi You 301" was converted from an LNG gas carrier to an LNG bunker vessel. This is currently deemed to be the largest LNG bunker vessel in the world. The vessel was created for the China National Offshore Oil Corporation (CNOOC).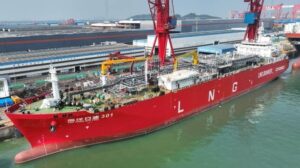 The ship was originally built as a gas carrier in 2015 by the Jiangnan Shipyard in China. Chinese media reports state that the ship transported LNG in the coastal regions of China.
The ship is 16,250 dwt and before the conversion could transport 30,000 m3 of LNG. The vessel is 184.7 meters long and 28.1 meters wide.
The conversion project was launched in August 2022. It took almost 80 days and was performed by Guangzhou Shipbuilding International (GSI), which is a part of the China State Shipbuilding Corporation (CSSC). The renovation and conversion included the addition of cryogenic units, front bunkering stations, gas combustion devices, reliquefication systems, and other equipment necessary for LNG bunkering. The mooring systems were altered and anti-collision capabilities were added for the ship to be able to operate as a bunkering vessel.
After the conversion, the ship can conduct ship-to-ship transfers with a fuelling capacity of 1,650 m3 of LNG per hour.
CNOOC Technology & Services will be operating the Hai Yang Shi You 301 out of a base in the Nansha district of Guangzhou. They report that the newly built bunker vessel will fuel large vessels, such as ocean-going carriers, ore carriers, crude oil tankers, and RoRos.
Kindly like us on Facebook/twitter