The Ogun 1 Area Command of the Nigeria Customs Service, on Thursday, said that it impounded smuggled goods worth over N5 billion in the year 2022.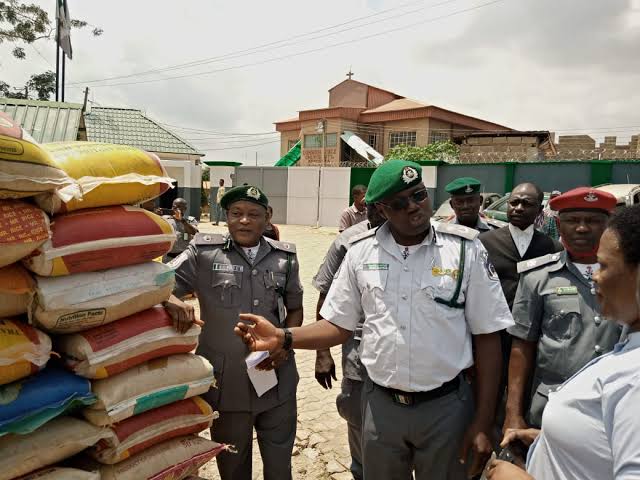 The command also said that it generated a revenue of N97.8 million from 957 seizures in the year under review.
The customs controller in the state, Bamidele Makinde, disclosed this while presenting the 2022 annual report to newsmen at the Idiroko office, in the Ipokia Local Government Area of Ogun State.
Makinde added that the command generated N97.8 million from the auction sales of petroleum products and baggage assessment of some items brought in from neighbouring countries.
According to him, the revenue generated in 2022 represented almost a 300 per cent increase on the year 2021 revenue, which was N36,655,401.50.
Makinde said that 957 seizures were made including 45,773 bags of foreign parboiled rice of 50kg each, which is equivalent to 76 trailer loads, and 130 units of vehicles.
He said the vehicles are smuggled foreign used vehicles and other vehicles used as means of conveying prohibited items.
He added, "other seizures recorded during the period under review include the following: 451,100 litres of petrol, which is equivalent to 14 tanker loads; one tanker load of adulterated diesel; 43 Sacks, 351 small bags and 1,083 wraps of Cannabis Sativa; 2,250 packets of Tramadol; 30 units of motorcycles used for the conveyance of prohibited items and of second-hand clothing.
"Others are three bales and 384 pieces of foreign used bags; 2,953 pieces of foreign used tyres; 31 pieces of used refrigerator compressors; 4,700 bags of Dangote Cement used for concealment of foreign rice; 1,523 cartons of frozen poultry products; 89 bales and 485 pieces of foreign textiles and others.
"The total Duty Payable Value of the above seizures is N5,088,982,569.92, while that of the year 2021 was N1,378,276,656.00 a differential of N3,710,705,913.92 which is about 269 per cent higher."
He added that the seizures were recorded based on "the continuous use of intelligence in our operations and synergy with sister security agencies.
"While on duty at Ebute axis of Yewa North LGA in Ogun State, the officer was seated with other officers at their patrol base and a Toyota Avalon Saloon car driven by one Mr Idris ran into the officers, knocking down two of them in the process."
Makinde said that during the last quarter of 2022, the command lost one of its officers to a ghastly motor accident.
He added that the driver is currently being prosecuted.
shippingposition
Kindly like us on Facebook/twitter