A bill of lading is a negotiable instrument that is issued by the shipping company to its customer as an acknowledgement of receipt of goods for transport.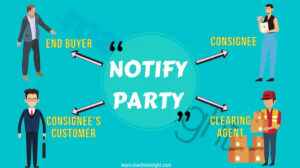 It is a contract between the shipping company and the customer to transport the customer's goods from point A to point B in a sailing vessel of the shipping company. Here, the customer of the shipping company will be the consignor.
This contract is bound by terms and conditions that are shown on the bill of lading. The bill of lading shows the names of all those who are party to the transfer of goods such as the consignor, the carrier, the consignee, notify party, etc.
The shipping company's customer who has entrusted it with the job of transporting goods, covered under the bill of lading is the consignor.
The consignor would have sold the goods to his customer who may be the recipient at the destination port. Shipments could also be intra-company transfers from one location to another.
When a company transfers goods from one of its branches to another, that becomes an intra-company transfer.
Once the goods reach their destination port, the shipping company has to hand it over to the consignor's customer, the customer's appointed agent, or the consignor's appointed agent.
However, these parties should have completed the clearance formalities such as payment of customs duties and taxes.
The party that will have the ultimate ownership of goods is the consignee here. The others merely act on behalf of the consignee to receive and move the goods to their final location.
A notify party is usually the consignee, a clearing agent, or a third party. The notify party is informed by the ocean carrier, upon arrival of the goods at destination, for the party to take necessary actions such as clearance, delivery to the customer, etc.
Generally, a bill of lading is a negotiable instrument. It means that they are contracts of carriage that can be transferred to another party. Being a negotiable instrument, bills of lading are issued 'to the order of the consignee'.
However, for a bill of lading to be negotiable, it has to be a 'clean bill of lading'. This means that the goods to be shipped are received by the carrier in good condition without damages or defects.
The 'clean bill' is issued by the carrier only after confirming this by inspection of the goods.
Upon inspection, if it is found that the goods received by the carrier have damages or defects a 'foul bill of lading' is issued. It is also referred to as a 'claused bill of lading' as the carrier includes a clause in the bill to denote the damages or defects.
There are non-negotiable bills of ladings too, such as a seaway bill.
A seaway bill has a fixed consignor and consignee. The ocean carrier is bound to deliver the goods covered under the seaway bill only to the consignee mentioned in it.
Kindly like us on Facebook