More than two-thirds of Africans (65 per cent of the continent's population) survived COVID-19 or rather have been infected by Severe Acute Respiratory Syndrome Coronavirus Type 2 (SARS-CoV-2), the virus, which causes COVID-19, according to a World Health Organisation (WHO) analysis.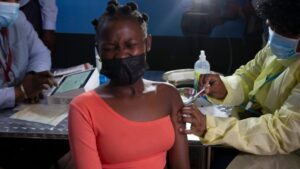 The study, published yesterday, found that true infections on the continent were 97 times larger than reported confirmed cases.
The examination, which is available as a pre-print under peer review, synthesised 151 studies published on seroprevalence in Africa between January 2020 and December 2021.
It found that exposure to SARS-CoV-2 skyrocketed from three per cent (1.0-9.2 per cent range) in June 2020 to 65 per cent (56.3-73 per cent range) by September 2021 or 800 million infections compared with 8.2 million cases reported at the time.
The study showed that exposure to the virus rose sharply following the emergence of the Beta and Delta variants.
The analysis revealed that the true number of infections could be as much as 97 times higher than the number of confirmed reported cases. This compares to the global average where a true number of infections is 16 times higher than the reported confirmed cases.
However, seroprevalence varies widely within and across countries in Africa – higher in dense urban areas – and between age groups, with children aged zero to nine years having fewer infections compared with adults. Exposure to the virus also varies between countries and Africa's sub-regions: Seroprevalence appears to be highest in Eastern, Western and Central African regions.
Also, preliminary results of an ongoing seroprevalence study in Nigeria showed that more than 50 per cent of Nigerians, over 100 million people, survived COVID-19.
WHO Regional Director for Africa, Dr. Matshidiso Moeti, during a virtual press conference, said: "This analysis shows that current reported COVID-19 confirmed cases are only a fraction of the actual number of infections on the continent."
Kindly like us on Facebook