At least eight illegal immigrants died and 15 others went missing after an Italy-bound boat sank off the Tunisian coast on Thursday, State Monastir Radio reported.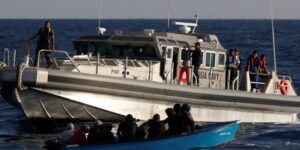 The Maritime Guard rescued 14 people on the boat, which capsized off the coast of Chebba town in the eastern Mahdia Province, the radio quoted a security source as saying.
Bordering the Mediterranean Sea, Tunisia is one of the most popular transit points for illegal immigrants who want to reach European shores.
Although Tunisian authorities have adopted rigorous measures to tackle the problem, the number of illegal immigrants, who depart Tunisia for Italy, has increased.
Kindly like us on Facebook/twitter