In matter of less than two months, the International Maritime Organisation (IMO) Council Election will hold in London.
And ahead of that, the Director-General of Nigerian Maritime Administration and Safety Agency (NIMASA), Dr. Bashir Jamoh, has said that, Nigeria is interested in returning to the Category C seat, and this is official.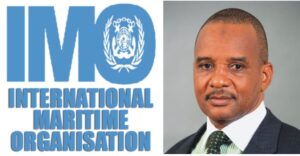 Perhaps convinced that enough of canvassing has been done in the Africa region, the Director General of NIMASA, at a recent seminar of the Atlantic Centre in Lisbon Portugal, urged IMO Member States to support the country's bid.
From his statement, the unique selling point for Nigeria's bid is the supposed safe water channels of Nigeria and the Gulf of Guinea. He said: "We ask for your vote and count on your continued confidence in the efforts of Nigeria to work in partnership with other nation-states in the Gulf of Guinea, to continue keeping our corridor of the Atlantic Ocean a safe passage for seafarers, their vessels and the vital supplies they transport for our common sustenance."
Did the NIMASA DG realise that, the state of passage for incoming ships can also derail our intent. Our achievements in the area of piracy and safety of ships coming into Nigerian may be our albatross.
Nigeria has been a member of the global maritime body; the International Maritime Organisation (IMO) for decades.
In 2007, she made her first successful move to sit on in Category 'C' of the IMO Council. While seeking election in 2007, Nigeria had tough challenges from virtually all countries in West Africa. It was at the peak of the lobby that Nigeria struck a deal with Ghana.
In 2011, that is exactly four years after securing the seat and after serving two terms, Nigeria failed to secure re-election into the council.
Since then, Nigeria has not sought to be reelected into the Council, until 2019 when she narrowly lost to Kenya by only one vote.
It is exactly 10 years since Nigeria lost the bid to get back on the Council, and last week, she lost her bid again.
Unknown to many, Nigeria lost her bid for a third consecutive term in 2011, because we reneged on an earlier agreement that was reached with Ghana which not only supported Nigeria in 2007, but also rallied other nations to support.
A little recall may be appropriate at this point. While seeking election in 2007, Nigeria had tough challenges from virtually all countries in West Africa. It was at the peak of the lobby that Nigeria struck a deal with Ghana.
The then-Director General, Nigerian Maritime Administration and Safety Agency (NIMASA); Dr Ade Dosumu gave an insight into why we lost in 2011. "We have an agreement with Ghana. I was the chairman of the technical committee on Nigeria's re-election and I led the delegation to Ghana. Our agreement with Ghana is that Nigeria would go to category C and spend four years and move to B, because Ghana says they will only step down for Nigeria for two terms after which they want to come to C and expect Nigeria to move to 'B' and support Ghana. These are major issues in international politics. Four years is enough for us to bring our safety administration to a higher level that will be acceptable internationally".
In our desperation to clinch the IMO seat, our delegation promised exactly what Dr Dosumu stated above, and just two years after, Nigeria reneged on the agreement she had with Ghana, which many West African countries were aware of.
Unknown to many, we didn't lose because we were not qualified to be in the Council, our loss was not because we didn't campaign well. We were qualified and we campaigned well, we even hosted Ambassadors to a dinner, we did all that we should.
Nigeria lost to politics; we lost because we became 'greedy' and assumed that we must grab all; we also lost because of unfulfilled promises, we lost because we did not qualify to be called a maritime nation going by simple parameters such as capacity building, maritime trade, maritime safety and security, among others", he had said.
Without any prejudice, there is a lot of political maneuvering going on ahead of the elections. While one may not be privy to how deeply NIMASA understands the game, it may not be out of place to take a cue from what Dr Dosunmu highlighted above.
The IMO election is about giving and taking; that is, you must offer something to get what you want.
The controversy over the recent elections of the Secretary General of the Maritime Organization for West and Central Africa (MOWCA) readily comes to mind. Even though Nigeria had a very strong point about the violation of guidelines for the elections, her hasty pull-out of the meeting smirks of blackmail and a sign of diplomatic weakness.
With 23 countries as members in the West and Central African region and two other countries affiliated to it from outside the regions, MOWCA boasts of 25-member countries with a strong contingent of 14 French-speaking countries in its ranks. The 14 French-speaking members of MOWCA include Benin, Burkina Faso, Cameroon, Central African Republic, Chad, Congo-Brazzaville, Cote d'Ivoire, Gabon, Guinea, Mali, Mauritania, Niger, Senegal, and Togo. For the English-speaking countries, a paltry five: The Gambia, Ghana, Liberia, Nigeria and Sierra Leone top up the number to 19. Three Portuguese speaking countries from the West and Central African region, Cabo Verde, Guinea-Bissau and Sao Tome & Principe, with two affiliated countries from outside the region, Mozambique and Angola take the membership haul to 24; while Equatorial Guinea, a Spanish-speaking country completes the membership list to 25.
The fact that Nigeria lost to Liberia, Kenya, South Africa, Egypt and Morocco is instructive. These are nations that are also as prominent (if not more prominent) in maritime trade as Nigeria. Among these nations, Liberia, Kenya, South Africa and Egypt have always contended with Nigeria. We recall that, Nigeria lost the bid in 2011 because Liberia outrightly worked against her.
Truth be told; perhaps, with the exception of Morocco all the African countries that defeated Nigeria are better maritime nations than Nigeria. After all, it is to these countries that our youths run to for training and certification as seafarers under the National Seafarers Development Programme (NSDP).
While not too concerned about how much Nigeria committed to the latest failed adventure, what should be of concern to Nigeria as a nation that is blessed with abundant maritime, but is a struggling maritime nation with potentials, is what we would have gained if we won.
The question to ask is: Did we effectively use the two terms we served in the Council to advance the cause of Nigerian maritime industry stakeholders; especially, seafarers and ship owners.
Sadly, the answer is No. As it was prior to 2009, indigenous ownership of ships still remains a tall dream, while provision of shipping services is nothing to write home about. Added to this is the reality of sea robbery and piracy.
Nigeria has really not done much with its previous membership of the IMO council, so much so that we can say that in all parameters, Nigerian stakeholders have not fared better that they were in 2009.
May be we should take a cue from Jamaica; a member of Category 'C', which shortly after her re-election in 2007, said she would use the opportunity to "enhance her capacity and that of the Region to which she belong to contribute to major policy decisions, rule-making and the development of standards including representing the maritime interests of Least Developed Countries (LDCs) in order to implement port, coastal and flag State obligations.
In 2007, Jamaica said, "Re-election to the IMO Council is critical for Jamaica at this time. Our country has evolved as a credible maritime State with port, flag and coastal State standards at the international level and is currently establishing itself as a global Shipping and Logistics Hub."
Can Nigeria say that her previous four years were well-utilised, can she say that her membership of the IMO has drawn benefits to the country. As elitist and status-boosting as the membership of the IMO Council is, are there no better things that ought to pre-occupy NIMASA and Nigeria?
We don't think that Nigeria needs to be in the Council of the IMO to make her waters safe for navigation; certainly she doesn't need it to also ensure that indigenous ship owners enjoy a better deal. What about thousands of jobless cadets that have been produced through the NSDP and the Maritime Academy of Nigeria. The list of what NIMASA should prioritize is not that long, but only requires a lot more determination and political will to make the difference.
Kindly like us on Facebook