The President General of the Maritime Workers Union of Nigeria (MWUN), Com. Adewale Adeyanju has urged the federal government through the various agencies in the ports as well as the indigenous ship owners to support seafarers in the country, even as he stated that seafarers are key to the growth of the nation's economy.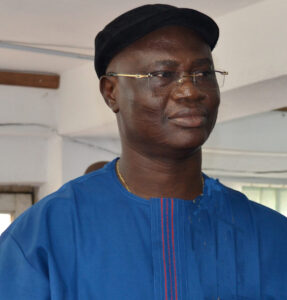 Adeyanju in a chat with our correspondent during the election of new executives of the Seafarers Branch in Lagos on Wednesday lamented that it is unfortunate that government does not pay much attention to seafarers.
According to him, "the Seamen are part and parcel of the growth of our economy, without seafarers the economy will not move, they have been playing significant roles over the years and even now.
"It's just unfortunate that government does not pay much attention to seafarers, they are not recognized, they need to be commended, you know what happened during the COVID-19, some of them abandoned their children and wives for months, because they were on the sea.
"Our indigenous ship owners too, what role are they playing? what legacies are they laying down for seafarers, what empowerment have they given to them, what training are they giving to them, government will come, government will go, it is only those who have the love of the seafarers at heart that will do something" he said.
President General of MWUN also charged the newly elected executives of the Seamen/Nigerian Inland Waterways Authority (NIWA) and Water Transport Branch of the union to be dedicated to their office and be service-oriented.
He tasked the chairmen and other officers who have been saddled with the responsibility of piloting the affairs of the four districts in the branch to work as a unit and carry everyone along in order for it to achieve its goals.
The PG also urged them to see unionism as a means of service to humanity, where union leaders will always show deep interest in workers' welfare and capacity development.
Speaking also, the President of MWUN Seamen Branch, Com. Sunday Avoseh charged the new executives to be focused, hardworking and sincere.
He stated that the responsibility that has been given to them is a call to duty to continue the vision of the union and that of the leadership in order to take it to the next level.
On his part Comrade Lawrence Aikhomu, chairman of the Seafarers District One, during his acceptance speech advised all the newly-elected officers to go about their responsibility with utmost diligence and camaraderie.
In his words: "I want to advise those that have been elected to work with love and understanding. Don't look at the weakness of those you are to work with, look at their positive sides and energise it to overgrow their weaknesses. I also want to encourage us to imbibe the spirit of honesty and sincerity in all our dealings".
He admonished members to desist from acts that could give the seamen district and union a bad name, while adding that all loopholes should be blocked so that the branch can have a better record.
Those elected include: Com. Aikhomu Lawrence as chairman, Seafarers District One; Com. Bashir Bala Saidu, chairman, Industrial District; Com. Paul Ngwan, Chairman, Commercial Private Boat District and Com. Reuben Erujaroh as Ch myairman, Seafarers District Two respectively.
Others are Seafarers District One: Oyinsi Monye, Vice Chairman; A. A. Lawal Secretary; Rahamon Waheed – Asst. Secretary; Ben Sunday, Treasurer; Com. Eno Archibong, NEC (National Executive Council); Badmus Dectan Smart as Female Rep. and Alao Olaitan, Org. Sec. Appointed.
Industrial District: Josiah Azubuike, Vice Chairman; Uviesherhe Oyoma as Secretary; Henry Ejeta, Asst. Secretary; Stella E. Nduka, Treasurer; Esther Udueyin, Female Rep. and Akpan Amos for NEC.
Commercial Private Boat District: Stephen Zoko, Vice Chairman; Owolabi Omotayo, Secretary; Tunde Orofin, Asst. Secretary; Osaweren Ogheneviuoke Larry, Treasurer; Roseline Onu, Female Rep. and Edamisan Ipinsokan for NEC.
Seafarers District Two: Stephen Ezekiel, Vice Chairman; Tuesday Ibeabuchi, Secretary; Elibe Christopher, Asst. Secretary; Monday Inarhe, Treasurer; Com. Ajibaye Iyabo, Female Rep. and Okoro Joseph for NEC.
Kindly like us on Facebook