Oluyinka Onigbinde
After delaying in ratifying the agreement, Nigeria is again leading the pack of countries delaying the actual take-off and trading on the African Continental Free Trade Agreement (AfCFTA) platform.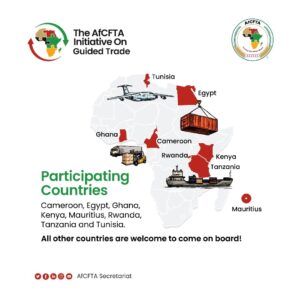 Investigation by Shipping Position Daily revealed that countries such as: Ghana, Egypt, Cameroun, Kenya, Rwanda have all completed the mandatory trading requirements necessary for the intra-Africa trade.
It is projected that, when it comes into effect, the AfCFTA will create a single market for goods and services in Africa. By 2030, the market size across the continent is expected to include 1.7 billion people with over $6.7 trillion of cumulative consumer and business spending—if all African countries join the agreement.
Recall that Nigeria, the largest economy in Africa, was the last to sign the AfCFTA on July 7 2019, becoming the 34th member of the trading bloc.
However, Nigeria which is being touted by experts as the likely greatest beneficiary of the AfCFTA is still foot-dragging in meeting the requirements needed to participate.
According to a document obtained by our correspondent exclusively last week, about 10 African countries have all met the requirements. They are: Ghana, Tunisia, Egypt, Cameroon, Rwanda, Kenya, Tanzania and Mauritius. These countries have already been accredited as 'Participating Countries.
Speaking on the delay, the Chief Executive Officer of the Center for Promotion of Private Enterprises (CPPE) Dr. Muda Yusuf blamed bureaucracy in the system and the slow pace of work in the public sector for the delay.
Yusuf also confirmed that Nigeria is yet to submit negotiations on trade in goods and other documents to both AfCFTA and the African Union (AU). The CPPE boss also blamed the lack of adequate information for the delay in take-off.
He told our correspondent that: "I believe it is the usual bureaucracy and slow pace of work in our public sector space. That is what I think is responsible. I know that the negotiations on trade in goods have been completed and I am not sure whether it has been deposited with AfCFTA, because in AfCFTA, once you complete negotiations, you have to report the appropriate documents with AfCFTA and the AU on the products of which you are going to have protection or products on which you want to liberalize and all of that.
'I think negotiations have been concluded with trade in goods, but in the negotiations of trading services, I am not sure it has been completed. Some submissions have been made on the platform of ECOWAS to be submitted to the AfCFTA secretariat; that is still ongoing because you know in our own economy we have a stronger strength in services than in production.
"Our services sector is much stronger than our production sector. This is because of the cost of production and all these infrastructure issues.
"The second point is that even those who are supposed to trade, I am talking of the business people; still have very little information about the step-by-step things that they need to do, if they want to take part in this African Continental Free Trade Agreement. It is not enough to just sign an agreement, the operators need to know in practical terms what they need to do and what can enter which country, because access to each country will also be different depending on the kind of protocols or the kind of document that each country submits. So all that information needs to be put in the public domain for all the operators to know the items that are covered and those not covered in certain countries.
"All this information is not yet made available to those who are operators in the economy. So there is still a very huge information gap that we (Nigeria) need to fill. But more importantly, I think the speed of our getting involved is coming more from the public sector. They are the ones slowing us down as business people. That is, the public sector operators and key ministries. They need to expedite action on the services and conclude, so that our professionals such as our Lawyers, Accountants, Doctors, Musicians, and IT Professionals can know what they can do in other parts of Africa. Services provision is more mobile. It is easier to jump into" he said.
On his part, Dr. Obiora Madu; Director General of the African Center for Supply Chain, blamed the country's delay on dependency on crude oil, stating that unless the country channels its focus on non-oil export, the delay may linger still.
He said: "The issue is this – how well are we doing with non-oil export, are we ready for non-oil export? Do we do as much as we should be doing? Export is export. It doesn't matter whether it's going to the US or to UAE or to Africa; it's export because you will still have to go through the whole compliance system at home and abroad, and stick to the rules of documentation. We have problems with our attitude and preparation; preparedness for export. And if you ask me, we are not doing well, some key products like cocoa and the rest of them, if we take strong steps we can multiply our proceeds probably up to three times and then share that. Nigeria alone produces about 60% of the entire world share, my point is that if we are not prepared; export didn't start today, and there aren't too many peculiarities about AfCFTA, other than the fact we now belong to a single market; that is close to our self, closer than the places we were venturing before.
On his part, President, Manufacturers Association of Nigeria (MAN); Engr. Mansour Ahmed, however, opined that Nigeria is not lagging behind. He said that: "The African Continental Free Trade Agreement is not what different countries can take off or kick-start at their own time. The issue is that, as far as I know, not all the conditions that will make that relationship effective are in place for everybody".
Defending Nigeria's preparedness, he said, "It is not just for Nigeria; each country will have to set up strategies in its own domain, set up agencies that will regulate such things, Customs processes and others. Nigeria is doing that as well".
Speaking further, he said: "If trade has not started, it is not because Nigeria has not done anything. Nigeria is trading in other countries and where the structures are in place for the trade to be made in accordance with the AfCFTA. I believe that when we hear of countries like Ghana, Rwanda and others that they have started, I believe all they're saying is that maybe they have put up some structures in their domains which will make them ready to trade with other countries on the basis of AfCFTA. I don't think Nigeria is behind in this regard".
The MAN President added that, "We are doing what is necessary. We are putting in place what is necessary, developing the necessary procedures and protocols. A lot of these protocols are still being worked out, even at the Continental level.
"There are still a number of protocols that have to be finally-negotiated. So it is a process that is taking place. Perhaps it is more about how much information each country is putting out to its citizens in terms of its readiness for the take-off. But let me assure you that Nigeria is not left behind in this" he said.
Kindly like us on Facebook/twitter