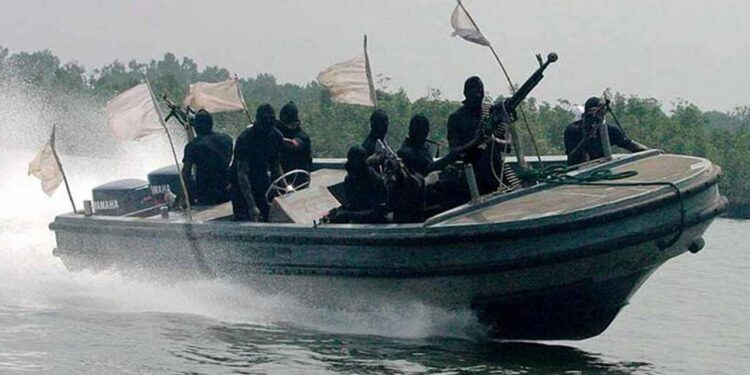 Within a spate of a few days, daredevil pirates last week held sway Within the Exclusive Economic Zone of Nigeria and the Gulf of Guinea, attacking three ships and even kidnapping three seafarers in the process.
First to be attacked by pirates in the Niger Delta was a Mediterranean Shipping Company; MSC Lucia; a containership en route from Lomé in Togo to Douala in Cameroun. The attack was eventually foiled by the Russian navy.

A statement by the Russian Ministry of Defence said that the destroyer Vice-Admiral Kulakov received a distress signal from the MSC Lucia on Monday morning. The merchant vessel reported that armed attackers had approached via speedboat and climbed aboard. Lucia's crew had retreated to the engine room for safety.
In response, Kulakov launched her Kumov Ka-27PS helicopter carrying a boarding party of Russian marines. Upon seeing the approaching aircraft, the pirates fled the vessel, "got into a fast boat and headed towards the coast at full speed.
After the attack on MSC Lucia, there was yet another incident of illegal boarding and kidnap of three seafarers for ransom at the Bioko Island Equatorial Guinea also last week. The Offshore Supply Vessel Distance came under attack approximately115nautical mile from Niger Delta coast.
The security update on the vessel was that, three crew members were kidnapped from the vessel.
Again, last Friday, a fishing vessel was attacked about 21nuatical miles off Sao Tome, Sao Tome
And approximately 275nautical miles from the Niger Delta coast.
According to the report, one of the speedboats had 2 persons onboard. As the fishing vessel moved away from the area, the speedboats pursued it for a short while before moving away.
On the strength of the latest attack, security experts opined that, "there have been reports of other suspicious approaches in this area over the last year, most of which are attributed to local fishermen protecting their fishing grounds. However, due to recent confirmed pirate activities which have occurred far from the Niger Delta coast, it is recommended that vessels err on the side of caution and remain vigilant when transiting through the area and on route to ports in Gabon.
Similarly, stakeholders, especially those with knowledge of maritime security have stated that the Deep Blue Assets will not be sufficient to tackle piracy in the country territorial waters and in the Gulf of Guinea.
Shipping Position Daily recalls that, President Muhammadu Buhari had in June 2021 launched the Integrated National Security and Waterways Protection Infrastructure, also called the Deep Blue Project, in Lagos with a declaration that Nigeria now boasted better capability to control its maritime domain. Buhari had said the maritime security project offered a standard for other Gulf of Guinea countries in terms of strategy and collaboration.
Buhari had said the flag-off of the Deep Blue Project was "an important step in the continuing shift in strategic action about regional maritime security while stating that the Deep Blue Assets will provide security in the Nigeria waters
In a chat with our correspondent, the President Maritime Security Providers Association of Nigeria (MASPAN); Mr. Emmanuel Maiguwa, noted that the Deep Blue Assets is a form of response solution integrated to provide security in our waters, but said there is need to have more military presence on the country waters, noting that the Deep Blue Assets are not really sufficient in providing coverage to the country vast waters
He told our correspondent that: "The Deep Blue Assets as we know is a form of response solution integrated to provide security in our waters however if you look at the recent attacks that happened, we are agitated because one of the attacks actually happened in the waters of Equatorial Guinea, one of the attack happened you can say close to Nigerian waters, while the Deep Blue assets have capability to intervene. Looking at the location of the recent attack, you will realize that even if you are to deploy the assets it will take a while, unless the Deep Blue Assets are in close vicinity. According to the report, the Russians Navy were in close vicinity that is why they were able to respond"
"So what that tells you is that the presence of military assets at sea in an environment that is dangerous like ours is very critical, and the Deep Blue Assets are not really sufficient in providing coverage to our vast waters, he said, even as he explained that, " let's assume that we are going to narrow it to our waters, we need military presence in terms of our Nigeria Navy building operational capabilities, we have to find a way to put our Navy vessels at sea and that way, we can respond to attack within the short period and get to the destination".
According to him, "the vessel that was attacked was just lucky that the Russian Navy was around when the attack took place, if our Nigerian Navy was close at the moment, it will respond to the scene. So basically what I am saying is that we need increased presence of Navy on the waters, we need to start looking at the Nigerian Navy assets and capabilities to find out how the Navy can cover the waters, I am sure the Navy knows what they need to cover our waters and we all stakeholders need to come together and ensure that we strengthen that presence in our waters.
"The Deep Blue Assets is complimentary, but I can assure you that if the Deep Blue Assets is at sea and the attack is not very close to the Deep Blue Assets, it is likely that we are going to have a successful attack and what seafarers don't want or what shipping doesn't want is to even have a potential for attempted attack, attacks doesn't really have to be successful before it can cause damage, so you must prevent even attempts to give seafarers the comfort and the feeling of safety to be able to do their job without fear of what is going on here and there".
When asked if the recent attacks could affect Nigeria's chances at the IMO Category C election in December, Maiguwa stated that election into the category C of the IMO has no bearing with the recent attacks. He said election into the category C seat of the IMO council is more of political and not about what is done.
"We should stop deceiving ourselves in Nigeria; IMO category C has no bearing with Deep Blue Assets. The seat is not by appointment and has no bearing with the performance of a maritime state in the critical function of IMO – Maritime Safety and Environmental Protection. A state can perform excellently in these areas and still lose a seat to a poor performing state that plays politics better. It's a regional seat that requires regional leadership to earn votes.
"The only seats a state is guaranteed to occupy on performance are categories A and B, through shipping services, and international seaborne trade parameters, respectively.
"Let us develop our maritime GDP in Nigeria, while improving safety, and protecting our marine environment first. Then we can talk about the politics of IMO category C. Who knows, we may just find our way into Category A and or B, we have the potential", he said.
But, on his part, a former Director at NIMASA; Captain Eniosuoh Waredi disagree with Mr Maiguwa. He said to be a council member at the IMO, there is need to show leadership, this is even as he questioned the leadership qualities that Nigeria will show other countries that will help the country secure the IMO Category C seat.
He said: "Now I want you to judge for yourself, you had no clues that the Russians are in Nigerian waters and now you want to be a Council member that is going to make decisions for other countries, how does it works?
"You should ask the people going for category C that question. You're going to make decision when you don't even know that a foreigner is in your water, so the whole idea of category C does not even come at all".
"First, you have to clean up your own house, when you clean up your own house, then you can go make decision for somebody else's house, so that's my position" he said.
Waredi further said the recent reports of drop in piracy is not as a result of the Deep Blue Assets, but because of the foreign Navies, he noted that for Nigeria to fully secure her waters, the country will need to invest in strategies and intelligence gathering.
In his words, "Go and check about the Deep Blue Assets, every time you hear one person will write that they have been fully deployed, now we are now saying they have not been fully deployed. I thought they said because of the Deep Blue Assets that the piracy came down, so that means it was all lies, it was because of the foreign navies the piracy came down and not because of the assets; that is what this situation has shown.
"The truth in the situation is that the countries as we speak at the moment have no strategy. You see you can buy a kid several toys you want to buy, so if you wish you can buy 100 boats or whatever but at the end of the day how your boat is effective is your strategy.
"So what has been their strategy the only thing I have seen is that they displaced Secure Anchorage and decided to go there and sit down with the mindset that, that is where pirate will come.
"Naturally, what we do in the Maritime security environment is that we draw up the strategy before we start buying the asset so that as the asset comes in, they are falling into the strategy. So what was your strategy before buying the Deep Blue Assets; they could say the strategy is a secret strategy they are not going to publish it, but at least if they are not going to publish it, they should demonstrate it" he said.
Kindly like us on Facebook