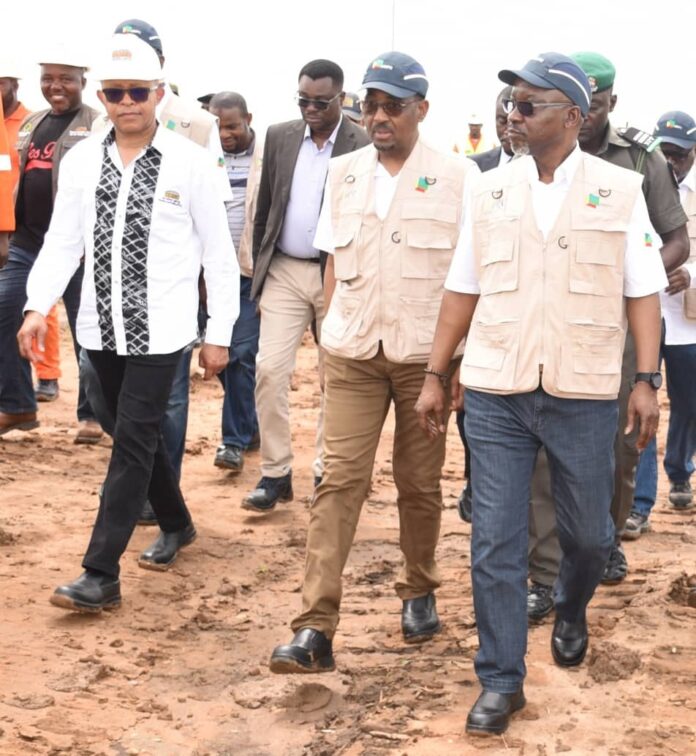 The Minister of State Petroleum Resources (Gas), Ekperikpe Ekpo, has charged contractors handling the 614 kilometer Ajaokuta, Kaduna, Kano (AKK) gas pipelines project not to default on the promised July/August 2024 completion deadline.
The minister who toured the project on Thursday had expressed concerns over the slow pace of work, demanding from Oilserve Limited, the contractor handling the segment one of the project, when exactly the project would be completed.
Ekpo said the economic prosperity of Nigeria was tied to the AKK project as it was designed to supply  gas to homes, automobiles, electricity and industrial users within Abuja, Kaduna, Kano and adjourning states of the federation.
"I appreciate what the contractors are doing. But I want you to know that the prosperity of Nigeria depends on this project because energy is synonymous with prosperity, and when this project is completed we will have energy security in our country; investors can then come in to do business and also create jobs for our citizens," Ekpo said.
"There will be CNG for cars and LPG will be made available for more homes. Industries and power stations will also benefit from this project. This project holds the keys to the growth of our economy and in fact, we have enough gas for the project," he added.
Responding, Chairman of Oilserve Limited, Emeka Okuosa, said the project would be completed for inauguration between July and August 2024.
Okuosa listed some of the challenges slowing down the AKK gas pipeline to include insecurity in neighbouring Niger State and a right-of-way characterised with rocks and rivers.
He however said the company was working with the NNPCL and security agencies to curtail the pockets of insecurity and ensure contractors work both day and at night to meet the July/August 2024 deadline that it has set.
The minister who was accompanied on the tour by the Authority Chief Executive, Nigerian Midstream and Downstream Petroleum Regulatory Authority,  Farouk Ahmed, top officials of the NNPC and other industry stakeholders told the contractors to stick to the July/August deadline.
"The July, August deadline should be sacrosanct and there should be no excuse; that is what we are going to look at," Ekpo reiterated  while appealing  to Nigerians to be patient with the President Bola Tinubu-led Federal Government, assuring that the economic  situation of the country would improve for the benefit of all citizens next year  by the time the AKK project and other economic programmes start yielding dividends.