Oluyinka Onigbinde
The Minister of Transportation; Mr Rotimi Amaechi has given a directive for the conclusion of the Governing Council elections of the Council for the Regulation of Freight Forwarding in Nigeria (CRFFN) within two weeks.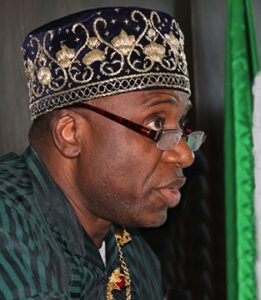 Amaechi stated this on Wednesday after meeting with all the 30 aspirants for the CRFFN Governing Council election.
Our correspondent who spoke to some of the aspirants gathered that the Minister said the Ministry cannot afford to go contrary to the enabling Act or undermine the constitution federal republic.
Amaechi, according to the aspirants said he was more concerned with the emergence of a new Governing Council to be inaugurated while requesting the cooperation of the stakeholders so that in the next two weeks, the election should have been concluded.
Amaechi also directed that, elections should hold in all the zones; South Eastern operational zones, South Western operational zone and split the election of one candidate for Abuja airport, Lagos airport, Port Harcourt airport, Kano airport and Seme border respectively.
Sources said that after giving the directive, the Minister took his leave and directed the Permanent Secretary to go ahead with details of the electioneering process.
Kindly like us on Facebook