By Joshua Yousouph
Despite several denials that trading under the African Continental Free Trade Agreement (AfCFTA) have not started, findings by Shipping Position Daily have revealed that three African countries have actually commenced trading.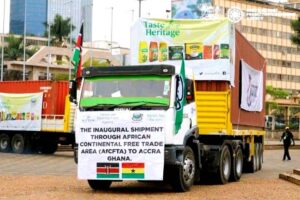 The AfCFTA is projected to create a single market for goods and services in Africa and by 2030, the market size across the continent is expected to include 1.7 billion people with over $6.7 trillion of cumulative consumer and business spending—if all African countries join the agreement.
However, Nigeria which is being touted by experts as the likely greatest beneficiary of the AfCFTA is still foot-dragging in meeting the requirements needed to participate.
While government officials in Nigeria still deny that actual trading have commenced, our correspondents confirmed that Kenya, Ghana and Rwanda have set the pace.
According to an official statement issued by the Kenya Ministry of Industrialization, Trade and Enterprises, and obtained by our correspondent, the first Kenyan company to start trading under AfCFTA, is the Associated Battery Manufacturing EA Ltd.
The company has exported Kenyan-made exide batteries to Ghana through the Port of Tema in Ghana on 23rd September, 2022 which marked the East African country's formal start of trading under the AfCFTA agreement.
The statement also added that Kenya has identified several products for the AfCFTA market, which include tea, confectionery, leather bags, incinerators, beaded products, vehicular filters, textiles, sisal fiber, avocados and fresh produce.
"Kenya and Ghana are keen on using the AfCFTA Agreement to create jobs and market for their goods and services, thereby keeping wealth within the African continent", the statement stressed.
To further buttress the fact that she has also kicked-off trading, our correspondent also cited a statement issued by Rwanda's Ministry of Trade and Industry.
In the statement, Rwanda confirmed that she exported the first consignment of goods under AfCFTA to Ghana on 30th September, 2022.
The first consignment of coffee from Igire Coffee Limited was flown to Accra by the national carrier, RwandAir, marking the formal start of preferential trading under the AfCFTA agreement by the East African country.
However, last week in a chat with Shipping Position Daily, President, Manufacturers Association of Nigeria (MAN), Engr Mansour Ahmed noted that on Nigeria's part, processes are still ongoing in terms of finalizing the procedures on various frameworks and guidelines that will facilitate her entrance into the continent-wide trade platform.
He informed that there have been efforts with various agencies such as the Nigerian Export Promotion Council (NEPC) to encourage SMEs that have been trading across the continent to formalize trading.
"The AfCFTA process is still going on in terms of finalizing the rules and regulations, procedures and the various framework and guidelines that will facilitate a continent wide trade, but even then individual countries may be working with each other under the current trade relations and try to explore specific opportunities.
"I am not surprised that Kenya and Ghana have particularly started exporting products like Coffee and others. We would do so and of course this would continue between different countries", he explained.
On his part, the CEO of Centre for the Promotion of Private Enterprise (CPPE); Dr Muda Yusuf said Nigerian stakeholders, especially business people are still not adequately informed about the protocols and what goods they can export with free duty to our African countries.
He also confirmed that Protocols on Trade in Goods and Trade in Services in Nigeria have not yet been firmed-up, even as he noted that the development by other African countries is a wake-up call to Nigeria.
"I think it is a wakeup call and a challenge to us to step up to this opportunity of this AfCFTA. Although we signed reluctantly, I think we need to take full advantage. As we speak now, I am not sure there is adequate information for the stakeholders, especially business people, to know what goods they can export free of duty to these various countries. We need that full information of what is obtained in the protocol, because of the protocol on Trade in Goods and Trade in Services. We need to disseminate information on all those protocols. Concerning the protocol on trade in Services for instance, I think they are just finalizing that. I'm not sure they have even firmed it up.
"Whatever it is, we need to accelerate the dissemination of information to stakeholders, so that we can begin to take steps. Our institutions such as Customs and the rest don't appear to be quite ready because there is no indication that the Customs are quite ready. There was a time the Customs CG was saying AfCFTA will affect revenue. You can imagine his mindset as a major stakeholder. All that needs to change, so that we actually do a lot more with AfCFTA" Yusuf concluded.
Also speaking, the Nigeria Customs Service (NCS) Comptroller in charge of Trade and Tariff, Comptroller Anthony Ayalogu informed that the current trade between countries under AfCFTA is a 'guided trade' which was implored to test-run the viability of the agreement for necessary corrections before full implementation.
Ayalogu said Nigeria was not selected amongst the eight countries to participate in the guided trade, not because it could not meet with some criteria which has to do with regional economic bloc and sizes.
"The trading they have had is what we call a Guided Trade. It is the assessment of AfCFTA by some countries. What we are experiencing now is not an actual trade. It is a guided trade. The trade is being guided to see the problem that could be arising when this trade starts properly. About eight countries were selected, but one declined so we have seven countries who have started this guided trade", he said.
He however acknowledged that: "Nigeria is not among them because we are not ready. They were selected with some criteria which has to do with regional economic bloc and the sizes".
"We were not selected among regional economic community not because we are not ready but because we did not fit in the criteria. After the guided trade, they will now make some corrections and the implementation per time and countries will now start trading. It is just like a rehearsal in football. It is not the main game", Ayalogu added.
Kindly like us on Facebook/twitter