Oluyinka Onigbinde 
Investigations by Shipping Position Daily have revealed that current efforts to reconcile members of the warring factions of the Association of Nigerian Licensed Customs Agents (ANLCA) is being threatened by the quest for power shift to the South-West following the indication of interest by the acting president of ANLCA Dr. Kayode Farinto to run for the office of the President of the association.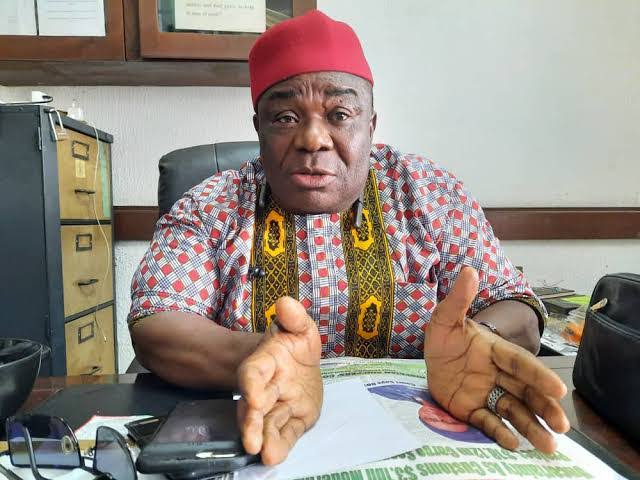 Information gathered by our correspondent also revealed that the Annual General Meeting (AGM) of the association which was expected to have held last week, was to have been boycotted by some aggrieved members who perceived a ploy for a power shift from the East to the West.
Our correspondent further gathered that a faction led by the Taiwo Mustapha Board of Trustees (BoT) are bent on ensuring that the position of the President of the association is still occupied by an Igbo member, while stating that there is a gentleman agreement of two terms of four years each for whichever tribe that becomes the president of the association.
The faction which is insisting on having an Igbo as President, argued that the present president of ANLCA, Tony Iju Nwabunike, had only served a term of four years and it would be expected that even if he is no longer interested in the association's politics, another easterner should complete his tenure of another four years, rather than a power shift to the South-West for a Yoruba member.
Checks by our correspondent revealed that the immediate past president of the association, Prince Olayiwola Shittu served a tenure of two terms of four years each, while the President before him, Sir Ernest Elochukwu only served a term of four years.
Our correspondent also gathered that at the association's AGM held in Owerri in 2021, the association had amended its constitution part of which include that the National Executives Committee Members (NECOM) of the association can only serve a term of five years in office, as against four years and a possibility of two term, a decision that seems unpopular among the faction led by Taiwo Mustapha BoT.
The faction has described the AGM as illegal and the constitutional amendment unacceptable.
In a telephone chat with our correspondent, a top member of the Taiwo Mustapha-led faction of ANLCA, Sir John Oforbike confirmed that the peace move in the association may be threatened if a Yoruba man decides to contest the position of the president of the association against the alleged gentlemen's agreement that a major tribe will be entitled to a two term of four years each.
He explained that although an easterner (Tony Iju) had only served a term, and has absconded, he said the Igbos still have one more term to serve in office.
He said; "There is a gentleman's agreement that after the major tribe, Yoruba rules for eight years, another major tribe will also rule for eight years, the Yoruba's have done eight years,  It is the turn of an Igbo man to rule for another eight years. Tony Iju knows he cannot win the election.
"He went with Henry Njoku and co, to amend the constitution and make it one tenure because he cannot come back and win the election, Farinto is aware of this, he knows that after one tenure he cannot contest the position he has contested. He wants to migrate to the President and he is moving from one place to the other telling people to support him".
Speaking further, he said: "Can Farinto be the President of ANLCA and bring peace? He can't, he is a rattlesnake. He insulted everybody. He is blind with his ambition. I told him to put God first in whatever he is doing. If he does not put God first, and he puts himself before God, he is going to be crippled.
"I told him that power belongs to God through people. He should submit himself unto God and not to be so fast because he wants to answer the name "Mr President". This is the practical truth and you can find out", he said.
Speaking on why the faction boycotted the AGM and preparations for election, he said
"We would have gone to hold an election by the board, but the board doesn't want to hold an election from one side.
"They want to have a general peace and it is the constitutional right of the board to conduct elections. That is why the Police want to find out who the authentic board is.
"We are still waiting for that. When there are crises, the board takes over. Farinto who is calling AGM, which NECOM does he have in place to call AGM?
"He is saying he has extended his tenure and his tenure will expire by April, for that reason he wants to call an AGM and conduct an election. You are not talking to fools. If a bird that is supposed to poach on a tree poaches on a rope, the bird will be dancing. That is where Farinto is going.
"Until he drops his ambition, you cannot be a Judge in your own case. You cannot be the one to destroy and rebuild. He has destroyed it, let him allow others to build it.
"There are so many injuries and so many people who are feeling bad about it. Let him stay by the side and throw in his ambition. It is not even the turn of a Yoruba man. The Yorubas have taken the West; it is the turn of an Igbo man to complete their eight years.
"They used "Roforofo" to spoil Tony Ijus's tenure. Farinto was part of it to make it look like the man cannot come back. That is what they plan. Now they want to come back after destroying the tenure of Tony Iju. He want to become President. Is it possible? It is not even the turn of a Yoruba man, it is the turn of an Igbo man. An Igbo man can come from the north, east or west to contest as far as he is an Igbo man. Farinto should bury his ambition for peace to reign" he declared..
shippingposition
Kindly like us on Facebook/twitter