Oluyinka Onigbinde
The Association of Nigeria Licensed Customs Agents (ANLCA) has decried the many activities obstructing Ease of Doing Business at the Onne Customs ports, especially multiple trade alerts by the Nigeria Customs Service (NCS).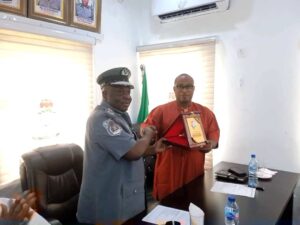 Speaking during a courtesy visit to the Customs Area Controller, Onne Command in Rivers Compt. AB Mohammed, ANLCA acting National President, Dr. Kayode Farinto lamented the issue of multiple alerts on cargoes by the service.
According to Farinto, who led the ANLCA Executive Committee on the visit, he said it has become very difficult to achieve examination and evacuation of cargoes from the port owing to multiple alerts from the service, even as he added that a consignment can get four to five different alerts which is affecting ease of doing business.
"The issue of alert is what I will want you to address, let's see how we can reduce this alert and see how we can harmonize this alert and reduce the issue of alert on a container, you can get four to five different alerts which is not good.
"Before you block our members for any infractions, such a member should have been invited.
"You can have one declaration and have different DN on it.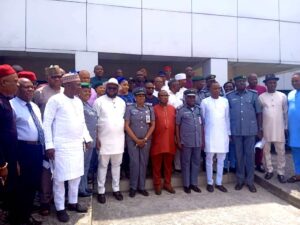 He added that members of the association are ready to comply with NCS, but however pointed out that compliance it's a way two thing adding that officers of the service should also be ready to comply.
"Before a licensed is 'blocked', you need to send invitation to the license owner, give minimum of two weeks, so we want this issue to be look into by the Comptroller.
"Before you block an agent for any infractions, it should be that the agent has been invited once or twice and he refuse to come.
"Because when you block us now in Onne port, it simply means you are blocking that agents in all the port of the federation which is not too good" he said.
Responding, the Comptroller Onne Command said the command is ready to take and listen to the advice, this is even as he said the command is ready to synergize the relationship between Customs and the customs licensed agents, stating that there is no way the Customs can work without the licensed agents.
He said on the issue of alert, the command is doing its best to make sure that the alert from the command should be able to serve other alerts from the service.
He however urged the licensed agents to make proper declaration whenever the need arises.
"But what we also need to look at is whether the cargo is clearly classified or not; whether the value is ok or not.
"So we will do our best to streamline the issue of multiple alerts in the system.
"Whatever we can do to further synergize the relationship between Customs and Customs agents we will do, he assured.
Kindly like us on Facebook/twitter