The Association of Nigerian Licensed Customs Agents (ANLCA), on Friday said that customs agents should be given an opportunity to participate in policy making in the maritime industry.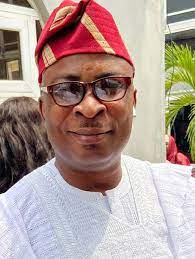 The acting National President of the Association, Dr Kayode Farinto, told the News Agency of Nigeria (NAN) that the measure would ensure there was no policy somersault.
Farinto, while speaking on expectations for 2023, added that unfortunately, the Federal Government had neglected the freight forwarding sector thereby hindering the growth of the sector.
According to him, if government harnesses the sector very well, they can make more money and contribute to the economy of the country.
"There is no knowledge that is impacted to the younger freight forwarders, no capacity building, every time we are neglected.
"Even when they are making policy, we are the ones that will be part of the implementation, yet we are not carried along.
"And each time government has policy somersault, it's as a result of this.
"If I have my way, I will say that a freight forwarder be appointed a Senior Special Assistant to the President on maritime affairs. You will see how our industry will develop if this is done," he said.
Farinto noted that they had many challenges, one of which is the unstable naira and the fact that the federal government does not have a consistent exchange rate.
He said that government prefers to give those going to pilgrimages official rate than to give somebody that want to import to add to the economy, adding that this is affecting the growth of the industry.
"Foreign countries have taken over our cargo as a result of the fact that government has always been phasing off one item or the other on either prohibition list or saying that they are banning it.
"Everywhere in the world that you talk about trade, you don't ban commodity again.
"Those commodities are allowed to thrive with local manufacturers, there will be competition and that is when the local manufacturers can now compete favorably well," he said.
He applauded President Muhammadu Buhari on the issue of rice, as local production now had served Nigeria for about 50 per cent unlike before when the country was relying solely on imported rice.
The ANLCA boss said that freight forwarders could add value to the country, but government should put them into consideration and when they do the budget, they should give freight forwarders incentives.
"If I am a managing director of a company and I have generated N1 billion to the coffers of federal government, just make a blanket pronouncement, whoever that has generated the highest money will get 0.1 per cent of whatever generated.
"You will see that government will generate more revenue by 2023. This is because I will not allow my importer to circumvent the procedure and many other things," he said.
shippingposition
Kindly like us on Facebook/twitter