Oluyinka Onigbinde 
The Association of Nigeria Licensed Customs Agents ( ANLCA) has promised to give free consultancy services and other support to the Imo State government for the quick development of Inland Dry Port and Inland  Container Terminal as well as  the Oguta Lake dredging to the Atlantic Ocean .
⁸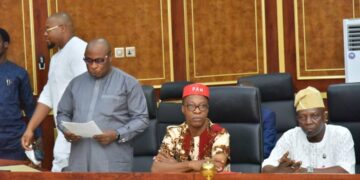 You will recall that the Imo State Governor,  Senator Hope Uzodima had last year said that the Federal government had approved the dredging of the Oguta Lake to the Atlantic Ocean to kick-start  maritime activities in the state.
The ANLCA leadership led by  its Acting National President; Dr Kayode Farinto and Patron; Chief Henry Njoku among other  chieftains of the association on Monday paid a courtesy visit to the Imo State Governor in Government House , Owerri. Governor Hope Uzodima is the Grand Patron of ANLCA.
Speaking at the courtesy visit by the association, ANLCA said since over two years ago that the governor was appointed the Grand Patron of the association, Acting National President of ANLCA, Dr Kayode Farinto said he has been monitoring the Governor and that he has worked tirelessly. He commended him  for his infrastructural development in the areas of education, health, roads etc of the state, despite the security and other challenges been witnessed in the state.
The ANLCA Acting National President who said he drew his strength from the Imo State Governor as a dogged fighter also informed him that the National President of ANLCA; Mr  Tony Nwabunike is on a study  leave in the United States. He said the association decided not to  bother him on courtesy visit, but to allow him concentrate on issues of governance. He assured   the governor that the association hopes to come later in the year to celebrate his second term in office.
Responding, the Imo State Governor,  Senator Hope Uzodinma thanked the ANLCA team for the visit, assuring them that he will continue to do his best for  his people and urged them to partner with the state.
He said, '" I want to thank you; since 1954, this association has contributed to the economic prosperity of our country, particularly in the area of commerce . We are developing infrastructure to attract businesses to the state and increase prosperity , social order and welfare in the life of our citizens. My government alone cannot do it , but will  provide an enabling environment to make business attractive".
Uzodinma said his government in collaboration with the Federal Government is planning to dredge the Oguta lake to the Atlantic Ocean, so as to open up the maritime activities in the state. He said Imo State has the highest gas deposits in the Country and there are seven communities with oil deposits , with two Federal government projects on oil and gas which will open the state up  for maritime economy.
shippingposition
Kindly like us on Facebook/twitter