Following the high rate of unemployment among seafarers in the country, a foremost maritime stakeholder, Captain Waredi Enuisuoh has identified effective bilateral agreement with foreign countries, international recognition and authentication of seafarers certificates as panacea to unemployment seafarers in Nigeria.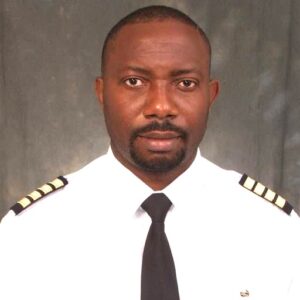 Speaking in an exclusive chat with Shipping Position Daily, Captain Waredi who is a former Director at the Nigerian Maritime Administration and Safety Agency(NIMASA), said that unless there is a bilateral agreement according to regulation of the International Maritime Organisation (IMO) between Nigeria and other countries, seafarers with Nigerian certificates cannot get jobs on board their flagged ships.
He however lamented that Nigerian seafarers are not recognised internationally because they are known for forged certificates and very difficult to get certificate verification from issuing authorities in Nigeria which has in-turn affected the rate of employment of Nigerians on board foreign ships.
Waredi urged the government to take a strong responsibility in fighting for international certificate recognition, and also publish the countries they have bilateral agreement with.
In his words: " In terms of international requirements, depending on which certificate the seafarer is holding, countries like Philippines or Australia provide a list of countries they recognize their certificates on board their ships. If your country is not on the list, you cannot be employed on their ships, even if that ship is in your waters.
"You cannot just wake up and say because the ship is in your territory, then they must take your seafarers and employ them. They may do it secretly but if the flag finds out that they breached their flag crew requirements without their submission, they could pay penalties. They could also withdraw their flag. This is why Nigeria has a very strong responsibility to continue to fight for certificate recognition, not just to fight but admit and be able to do the things that the foreign flags would recognize your certificate. They also have the responsibility to publish the countries we have bilateral agreement with. I don't think we have any.
"That means, if you have a Nigerian certificate and a Nigerian company brings in a Singaporean flagged ship to work in Nigeria waters, a Nigerian cannot work on board that ship. Unless there is a bilateral agreement with that country; seafarers with Nigerian certificates cannot get a job. That is why we see some Malaysian flagged ships come to do work around the Nigeria oil rigs and you will find out they will not employ any Nigerian crew. You cannot blame them. You may say it is Cabotage trade.
Waredi said, "the best way it can be done is to tell foreign flagged ships to change their flags to Nigerian flags while working on Nigerian waters. It is only temporary, when you finish your contract you can return back to your flag, but the problem we may have is that if they change their flag to Nigerian flag, the value of the ship goes down and the owners will never like that".
The ship Captain also stated that he is not in support of the "Go To Sea" campaign because automation is beginning to creep into ships which has led to the reduction of the minimum manning skill of ships.
Captain Waredi said formerly a ship carries 4,500 containers and have 19 crew, but now, a ship can carry 24,000 containers with less crew on board due to automation. "That is why I am not in support of "Go To Sea Campaign". Automation is going on, so why should you continue to encourage people to go and study things that they may end up having issues?" he asked.
Kindly like us on Facebook