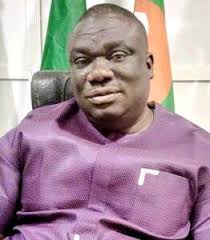 The Barge Operators Association of Nigeria (BOAN) has praised President Bola Ahmed Tinubu for establishing the Ministry of Marine and Blue Economy, citing this move as a testament to his ability to revolutionize the nation's maritime sector and economy at large.
Additionally, BOAN has conveyed its congratulations to Mr. Adegboyega Oyetola, the newly appointed Minister of Marine and Blue Economy. The association lauded Oyetola's appointment as a result of his dedication and hard work.
Mr Olubunmi Olumekun, the President of BOAN, expressed these sentiments through a statement released on Monday, underscoring the association's enthusiasm and appreciation for the recent developments.
Olumekun stated that, "On behalf of the Barge Operators' Association of Nigeria, I extend warm regards and congratulations to Mr. Adegboyega Oyetola for his well-deserved appointment as a Minister of the Federal Republic of Nigeria. This recognition reflects your diligent efforts, commitment, and positive contributions to our nation. Congratulations once again!
"BOAN's core mission revolves around enhancing coastal and inland cargo shipping in Nigeria, utilizing self-propelled barges or tugboats. In recent years, statistics reveal that approximately three million TEUs of import and export containers have been transported through inland waterways via barges, contributing significantly to trade and the national marine and blue economy.
"The strategic creation of a new ministry dedicated to the maritime sector by Mr. President, His Excellency Bola Ahmed Tinubu, GCFR, underscores his capability to transform the maritime sector and the broader economy. Given our status as a maritime nation, nurturing the Marine & Blue economy is paramount. We are confident that your leadership, fostering cooperation among industry stakeholders, will enhance the maritime sector.
"The Inland & Coastal Shipping industry in Nigeria, regulated by the Coastal & Inland Shipping (Cabotage) Act, 2003, is an integral component of the Marine & Blue economy. The establishment of this ministry coincides with the twentieth anniversary of this Act, signifying its relevance.
"As a signatory to the Africa Continental Free Trade Area Agreement (AfCFTA), Nigeria's coastal and inland shipping sector holds immense potential to bolster trade, exports, employment, currency strength, and overall economic growth. Seizing this opportunity will solidify Nigeria's position as a maritime powerhouse and a respected member of the International Maritime Organization (IMO) Council.
"The synergy between the Ministry and the Barge Operators' Association of Nigeria (BOAN) is pivotal, warranting cooperative efforts. We firmly believe that this ministry will propel our nation forward, earning a prominent global standing.
"We eagerly look forward to further interaction with your office, including a possible courtesy visit, at your convenience. Please accept our highest regards and our unwavering support. We wish you success in all your endeavors." he said.