By Joshua Yousouph
In a bid to enhance the Africa's economic growth and development with the African Continental Free Trade Agreement (AfCFTA), President Muhammadu Buhari has charged African countries to undertake bold domestic structural reforms in scaling up the supply capacity of the region.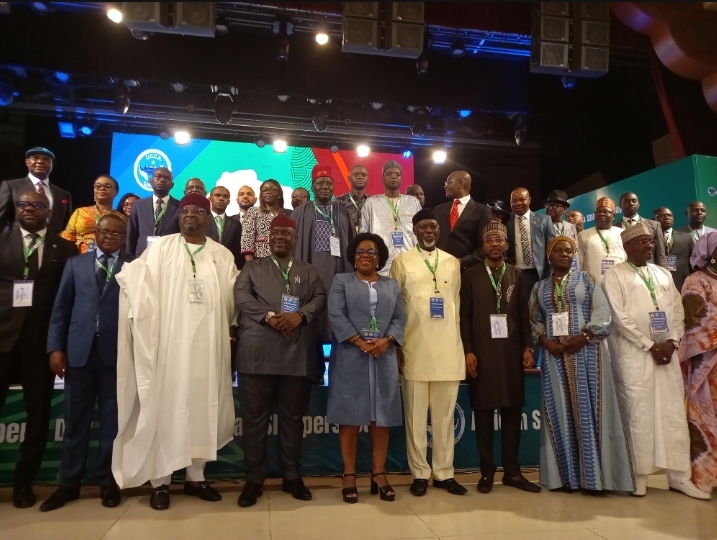 Buhari stated this at the opening ceremony of the 9th African Shippers' Day themed "African Continental Free Trade Agreement: A Veritable Platform for African Shippers to Mainstream into Global Trade," which was organized by Nigerian Shippers' Council (NSC) in collaboration with the Union of African Shippers' Council (UASC) in Lagos on Monday.
The President who was represented by the Minister of State for Transportation, Prince Ademola Adegoroye, stated that for AfCFTA to have a positive influence on long term investment in productive capacities, African government must develop appropriate supporting policies, build requisite infrastructure and ensure an educated work force.
Buhari also noted that as at 2017, intra-African trade in goods was $135 billion representing 15% of Africa's total trade, lamenting the sharp contrast to trade in other regions which is as high as 70% within the European Union and 60% in Asia.
The President explained that in Nigeria, AFCFTA is already seen as a game-changer to stimulate intra-African trade because more ambitious trade liberalization signifies greater expansion of Nigerian exports to its African partners. He also added that following the AfCFTA reform, Nigeria's exports would increase significantly to other African sub-regions, outside West Africa, with most impressive expansions to countries such as Botswana, Cameroon, Egypt, Ethiopia, Kenya, Malawi, Morocco, Mozambique, Namibia, Rwanda, Tanzania, Uganda and Zimbabwe.
"The global economy is a source of growth that African economies cannot afford to ignore. While African exports of goods and services have seen their fastest growth in the past decade, the volumes remain low at just 3 percent of global trade. African countries must therefore expand and diversify their participation in international trade and global value chains to create wealth, generate employment and to reduce poverty on a large scale as well as transform their economies. Achieving this lofty economic objective I believe is one of the major reasons that informed the birthing of the AfCFTA."
"The establishment of the AfCFTA presents major opportunities of production and exports, creates employment and limits the impact of commodity price volatility on the economies of various African countries. AFCFTA is expected to bring about a number of benefits to producers, consumers and countries alike.
"However, for AFCFTA to have a positive influence on long-term investment in productive capacities, African government must develop appropriate supporting policies, build the requisite infrastructure and ensure an educated workforce. We will need to actively promote productive employment and decent workplace, women's empowerment and food security and reduction in inequalities."
Speaking earlier his welcome address, the Executive Secretary of NSC; Mr Emmanuel Jime, stressed the need to sensitize various governments within the region to fast-track the dismantling of tariff and non-tariff barriers hindering trade in the region.
On his part, the Managing Director of the Nigerian Ports Authority (NPA), Mohammed Bello-Koko pointed out that automation has remained the tool to port efficiency.
Bello-Koko stressed that NPA is working with the International Maritime Organization (IMO) to deploy Port Community System in Nigerian ports to bring all stakeholders under one platform for ease of doing business.
Also speaking, the Secretary General of Abuja Memorandum of Understanding (MoU) on Port State Control for West and Central African Region, Capt. Sunday Umoren emphasized on the need to have African fleet to convey goods to be traded within the region.
Umoren assured that the Abuja MoU would play its role as part of due diligence in supporting nations in engaging the carrier with respect to effective port state regulations in ensuring the safe carriage and delivery of goods with minimal issues.
His words: "AfCFTA came at the right time and we have this platform binding us together but we need to act fast and snatch the moment. Nothing stops this region from having a strong ship owing capacity, thus eliminating the burden and impact of high freight rate from foreign ships."
shippingposition
Kindly like us on Facebook/twitter