Even as indigenous ship owners cry over alleged abuse of the Cabotage Act in favour of foreign-flag ships, investigation carried out by Shipping Position Daily have revealed that more than 40 foreign ships are currently trading on Nigerian waters, without recourse to the Cabotage Act.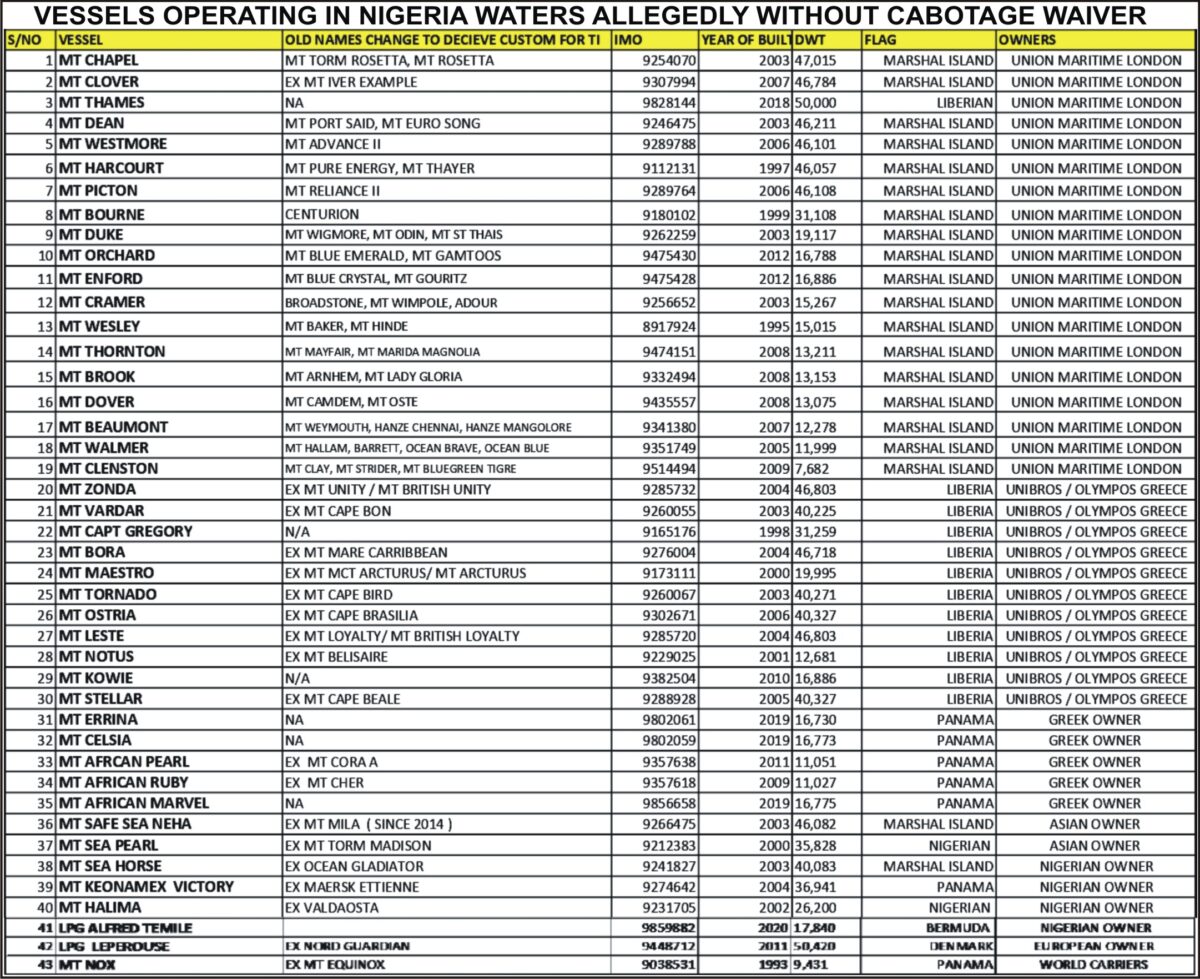 The Nigerian Cabotage trade is governed by the Coastal and Inland Shipping (Cabotage) Act 2003, which became operational in April 2004. The purpose is to reserve commercial transportation within Nigerian coastal and inland waters to vessels flying the Nigerian flag, owned and crewed by Nigerian citizens, and built-in Nigeria.
According to the law, a foreign vessel can only operate in Nigeria's coastal and inland waters if it obtains an approval from the Minister of Transport waiving the above-stated requirements.
Recall however that, Ship Owners Association of Nigeria headed by Dr MkGeorge Onyung had recently petitioned the National Assembly alleging that more than $100Million is lost to capital flight as foreign ships dominate coastal and tanker bunkering trade.
In a petition to the National Assembly and the Group Managing Director of the Nigerian National Petroleum Corporation (NNPC), Mele Kyari, the group alleged the existence of a several foreign shell companies.
But, digging deeper, our correspondents uncovered the existence of 43 ships doing coastal tanker business in Nigeria. Out of these, only two fly Nigerian flags and are qualified to do Cabotage business in Nigerian waters. 20 of the ships fly Marshal Island flags, 11 fly Liberian flags. The remaining are Panama, Bermuda Denmark.
The two Nigerian flag ships are: MT Sea Pearl and MT Halima.
Majority of the ships are owned by two foreign companies which were identified as: Union Maritime London and Unibros/Olympos Greece. While Union Maritime owns 19 of the ships, Unibros/Olympos owns 11 of the ships. Greek owners also accounted for five of the ships.
Out of the 43 ships doing Cabotage, only four are owned by Nigerians. They are: MT Sea Horse, MT Keonamex Victory, MT Halima and LPG Alfred Temile.
Sources who are privy to the goings on, disclosed to our correspondent that, most of the ships have also changed their names allegedly to deceive relevant government agencies.
The multiple sources also added that most of the ships have been trading in Nigerian waters for almost 10 years.
Shipping Position Daily also confirmed that the identities and other relevant information about the ships have been submitted to the Federal Ministry of Transportation.
When contacted, the President of Ship Owners Association, Dr MkGeorge Onyung refused to elaborate, but confirmed the presence of foreign ships on Nigerian waters.
"Is this not what we have been shouting about? I am happy that you have also got the evidence of this. We had written petitions to the NNPC and the National Assembly, we are still expecting their response.
The Ministry of Transportation is also aware of the plight of Nigerian ship owners. It is high government did something about it", he told our correspondent,
Kindly like us on Facebook