Oluyinka Onigbinde
In view of the need to critically address the crisis of road accidents in the country, the Chartered Institute of Transport Administration of Nigeria (CIoTA) in conjunction with the Federal Road Safety Corps (FRSC) have enlightened relevant stakeholders, operators and policy makers on global best practices on road use.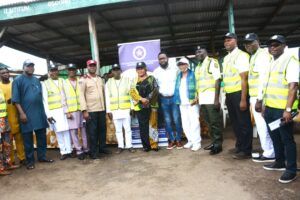 Speaking at the event that took place on Tuesday at the Ojota New Garage, Lagos with the theme "Natural Disasters, Road Worthiness and Safety Rule Enforcement in Nigeria"
Representing the Institute's President at the event, the National Publicity Secretary; Mrs. Chizoba Anyika educated the participants on the vision, mission and core values of the Institute and its drive at maintaining professional standards and improving the skills of transport practitioners and as well enabling them to deliver exceptional value for their organizations.
In his speech, the Chairman, CIoTA Lagos State, Dr. Taiwo Salaam re-echoed the need for safety consciousness in ensuring road worthiness and professionalism of all drivers.
Other key members who spoke at the event are : Special guest speaker; Prince Segun Obayendo, GMD Temple Group/LACVIS, TRACE Ogun State Commander Prince Seni who was represented by Cdr Amin Ganiyu,Dr. Adeyemi Ajao, Secretary to Education and Training Committee of CIoTA.
They all re-echoed the Institute's advocacy and collaboration initiatives towards mutually advancing the transport sector especially in the area of safety.
In his goodwill message, the representative of the Federal Roads Safety Corps, Lagos State Command; Commander O. C Olakoju shared some road-use ethics and sensitized all participants on the need to be safety conscious while his colleague; Cdr Ayo Ologun, enlightened the park's union members on step by step procedures for safer use of the roads especially as the "ember" month is approaching.
Responding, two union leaders, Mr Ilemobola, and Mr Ogundimu, Chairman Ojota motor park were very delighted at the collaboration and applauded the Institute, its Registrar Mr Rasheed Aiyelabegan and his team for the laudable initiative which it's believe will transform the road transport sector for better.
Kindly like us on Facebook/twitter