A clearing agent; Mr Kayode Farinto, has accused the Customs Comptroller General, Col Hameed Ali, (rtd) of killing the nation's economy through lack of professionalism on the job.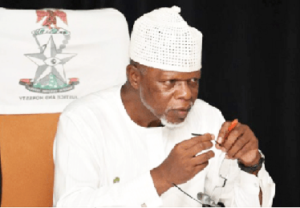 He also alleged that the service showcases seizures that never existed or repeats some seizure already made and show to the public as though its new, while calling for a probe panel to investigate the issue.
Farinto, who is also the Vice President of the Association of Nigerian Licensed Customs Agents (ANLCA) accused the Nigeria Customs Service of setting up different task teams who allegedly reap importers of their hard-earned money thereby frustrating the ease of doing business initiative of the Federal Government.
He further alleged that many of Area Controller in the western ports have created another office called "monitoring units" to extort and arm-twist customs brokers and freight forwarders to either succumb to arbitrary demand notices or settlement, if they desire a seamless cargo clearance.
According to him, the new unit is different from the standby units created by the Customs service to extort freight forwarders.
The ANLCA second man also noted that since the CG came into office, the World Bank rating on the Logistics Performance Index (LPI) of the country has continued to drop, based on the six key principles of measurement viz a viz efficiency of clearance process, the quality of trade and transport related infrastructure among others.
He said Nigeria should expect that her rating will not be favorable again this year, stating that as at 2018, Nigeria was rated 2.8 which is very low, where other countries like Benin, Ivory Coasts have better ratings than Nigeria.
He urged the Federal Government to assist the economy of the country by appointing from the crop of intelligent young comptrollers as the Customs CG, while adding that there is need for the Federal Government to start thinking of inter modal transport system as a way out of the abnormal in the country.
"We now have a situation where one individual is rated more the most powerful in the management of Customs than the honorable minister of finance. We have a Comptroller General of customs that is evasive, he sees no evil, hears no evil. How can he know what his men are doing on the field and when he eventually decides to see a part of the association, he continues to defend the misdemeanor of his officers.
'The Federal Government should be thinking of inter-modal transport system to assist the dependence on road. What a shame?" he said.
Kindly like us on Facebook