Global Container Terminals Inc. (GCT) announced on December 6th that it has agreed to sell its US-based terminals to French-based shipping company CMA CGM. This will extend CMA CGM's reach in the US; a crucial hub for trade. According to Bloomberg, the deal could fetch GCT $3 billion.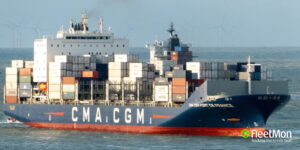 The two terminals in question are GCT New York on Staten Island, New York, and GCT Bayonne in New Jersey. CMA CGM stated that the two terminals have a combined capacity of 2 million TEUs per year and can be expanded to reach 4 million TEUs per year.
Although the transaction is still contingent on customary and required regulatory approvals, if it follows through, CMA CGM will have seven terminals in the US. Rodolphe Saade, CEO of CMA CGM described the acquisition of these two terminals as a strategic investment. He stated that this takeover would reinforce their services to customers in the US and improve their supply chain efficiency.
Meanwhile, GCT will retain complete ownership of GCT Canada and its terminals, namely GCT Vanterm and GCT Deltaport which are in the Port of Vancouver.
shippingposition
Kindly like us on Facebook/twitter