The South African Police Service (SAPS) also referred to as the Hawks has carried out a successful drug seizure at the Durban Harbour. The bust concluded in confiscation of a massive cocaine consignment of 1000 kilograms worth R500 million.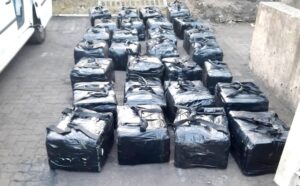 The consignment was found inside of shipping container, reported of transporting truck parts. A total of 999 bricks of cocaine were discovered from black canvas bags wrapped in plastics, concealed between truck parts placed at the entrance of the container.
The seizure was undertaken by the South Africa Narcotics Enforcement Bureau of the Hawks from Gauteng, and its Durban unit. The container was inspected after they were provided with a tip-off.
Col Katlego Mogale, Hawks spokesperson in her statements revealed that the consignment originated in Brazil at the port of Santos, according to initial investigations. She added, "The container was reported to be containing truck parts destined for SCANIA SA," an international heavy automobile company.
Officials also believe that the smuggling was to be carried out in a 'rip on, rip off' manner, where the bricks were to be offloaded secretly, and the container was to be sealed shut using a fake seal. The speculations are based on the location of a fake seal inside the container during the investigation.
Mogale revealed that no arrests related to the incident have been made, but investigations have suggested the consignment could be related to a bust earlier this month in Johannesburg. They believe, the incidents to be linked as the July 9 seizure, where 715 kilograms of cocaine was seized, was also disguised as truck parts inside containers destined for SCANIA.
SAPS is working in the direction to get hold of the international mastermind behind the large-scale smuggling of drugs transiting the South African waters and ports. It has already made four arrests including three police personnel complicit in earlier incidents.
Kindly like us on Facebook