Oluyinka Onigbinde
The Council of Maritime Transport Union Associations (COMTUA) has demanded an end to extortion of truckers along the port access road in Lagos by officials of the enforcement team responsible for the free flow of traffic in and out of the port.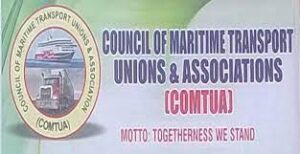 President of COMTUA, Mr Yinka Aroyewun, who led some members of the council to a courtesy visit to the Assistant Inspector General (AIG) of Police Mr. Adeleke Adeyinka, in Zone 2 Onikan Lagos, on Friday, lamented that truckers have become a cash cow for the enforcement team consisting of the Police, Lagos State Traffic Management Authority, (LASTMA) Nigerian Ports Authority (NPA) officials among others.
He urged the Police AIG to put an end to the extortion outside the port premises.
According to the COMTUA President, "We are here to intimate you of our business, what we do and what we represent, the maritime industry is so large that it contributes about 40 percent of revenue to the government coffers yearly".
He told the Police chief: "We are the members of COMTUA, some people believe when they talk about union you are talking about touts, but we are here so that you can see who we are, we are law abiding citizens who knows the importance of the maritime sector to the economy
"However, while carrying out our lawful businesses, we do experience some bottlenecks outside the port corridors which fall under your jurisdiction, this includes extortion from officials of the enforcement team responsible for free flow of traffic in and out of the port, the enforcement team consist of the Police, LASTMA officials NPA officials among others.
"We want you to come to our aid in this regard, it has gotten to a level where police officers remove our plate number, demanding that we path with some money before the plate number is returned" he alleged.
Responding, the AIG Zone 2, Mr Adeleke Adeyinka assured that he will try his best to bring sanity to the Apapa traffic environment, he stated that there is no perfect environment but assured that he will use his good office to stop the illegal act on the port access roads.
The AIG also urged the members of COMTUA to try to have a representative who will be part of the enforcement team, he said by so doing it will be easier to remove some of the bottlenecks highlighted.
"Let me reassure that we will try as much as possible to bring sanity to the environment, there is no environment that is perfect, but we will do our best to stop the illegal act.
"Also, I think it would have been better if you have a representative in the enforcement team, this I believe will help reduce the bottlenecks you have stated, I mean you're the ones who knows where the shoe pinches", he said.
Kindly like us on Facebook