Oluyinka Onigbinde
To complement efforts of security operatives outside the ports and on the highways, the Committee of Maritime Trucks Union Associations (COMTUA) on Monday sought the partnership of the South-West Stakeholders Security Group (SWSSG) led by the Aare Onakakanfo of Yoruba land, Iba Gani Adams for protection of its members and businesses.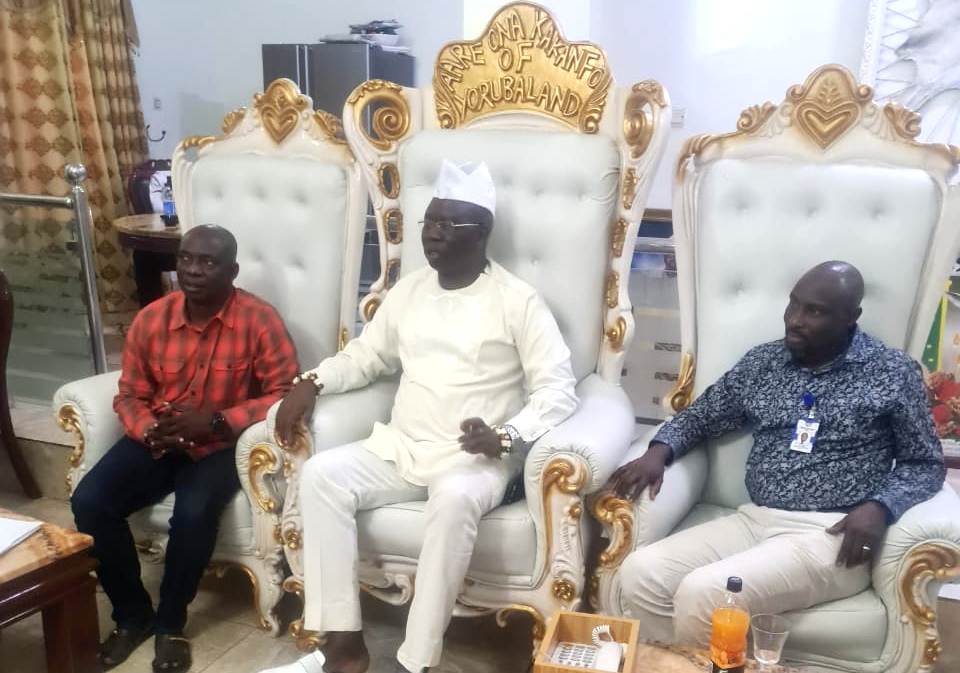 COMTUA, at a courtesy visit led by its President; Comrade Adeyinka Aroyewun, to Iba Gani Adams on Monday, lamented that many of its members have been left bankrupt as a result of hoodlums who hijack containers on the highways and beat up truck driver carrying the consignment.
Aroyewun informed the Aare Onakakanfo that he was a victim of such last year and that he lost a full container of Bajaj motorcycle to hoodlums who hijacked the consignment from the driver on its way to Ikeja.
Also speaking, the Deputy National President of the association, Mr Raji Adesina, also informed that a friend of his was indebted to the tune of N36 million last year, because highway hoodlums hijacked his consignment from the truck driver.
COMTUA urged the Aare Onakakanfo to use his good office to protect its members from running out of business as a result of the nefarious activities of the hoodlums and touts who constantly attack and extort drivers of container-laden trucks.
The Council also lamented that a group of persons who called themselves members of Oodua People's Congress (OPC) has continued to disturb trucking operations urging Gani Adams to help curb the menace that has been created by the hoodlums.
The COMTUA also sought that Aare Onakakanfo become its Grand patron.
According to the COMTUA President, "containers coming from the ports are being hijacked by hoodlums on the road , our drivers are sometimes beaten up by hoodlums when they refuse to path away with money, we need your assistance in the area of security of our trucks and consignment".
Responding, the Aare Onakakanfo informed that container hijacking on the road is alien to him, but however said he will rise to the occasion to ensure security of COMTUA trucks and consignment.
He informed that a private security guard will be provided for the council that will protect their consignments from hoodlums along the road.
He however noted that the issue of area boys and cult boys cannot be completely eradicated off the roads, as he informed that no one can do that except government is ready to do so.
Gani Adams said: "What you are talking about is alien to me, I am hearing this for the first time and we will however prepare a private guard that will back you up in protecting your trucks and consignment
"On the issue of Area boys and Cultist, there is no one that can resolve that except the government is ready to do so because majority of those in power today are cult boys from school, even some commissioner of Police, so if the government is not ready to subdue it there is nothing we can do about it.
"What's on ground needs strategic approach, we will package internal security for you and look at how to reduce this to the barest minimum
"You will however need to provide us with the spot where these illicit activities take place for us to act" he said.
In the COMTUA delegation to the Aare Onakakanfo of Yoruba land, apart from Comrade Adeyinka Aroyewun were: Raji Adesina Deputy National President, Chris Esene Vice President Special Duties, Yakub Kolawole , Director Financial record, Alhaji Isiaka Olalere, among others.
Kindly like us on Facebook