The port operations arm of COSCO Shipping will buy a minority stake in Port of Hamburg's Container Terminal Tollerort (CTT), the main calling point for COSCO Shipping ships in Germany.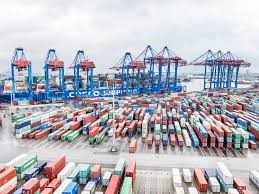 COSCO SHIPPING Ports Limited will acquire a 35% stake in the terminal with plans to "enhance the interconnection in logistics business" between China and Hamburg through joint efforts with Hamburger Hafen und Logistik AG (HHLA), the terminals majority owner.
With its minority interest, the CTT terminal will become a "preferred hub" in Europe for COSCO.
CTT is one of three HHLA container terminals at the Port of Hamburg. The terminal has four berths and 14 container gantry cranes, capable of handling of COSCO's largest containerships with a capacity of 20,000 TEU or more. With its five tracks, the terminal's own railway station connects the terminal with other European destinations.
"The maritime world is currently facing intense change. Long-term, trusting customer relationships – like the ones HHLA has tended to for 40 years in trade with China – are that much more important now," said Angela Titzrath, Chairwoman of HHLA's Executive Board. "The first Chinese vessel was processed at Tollerort back in 1982. Since then, the terminal has become a hub for liner services of what is now COSCO Shipping Lines. Against this background, HHLA and COSCO equally pursue the goal of successfully securing the future of CTT and an even more efficient dovetailing of Chinese logistics flows in Hamburg."
The Port of Hamburg currently handles nearly one in three containers originating in China or destined for the Chinese market, making it a key partner for Chinese trade.
"Container Terminal Tollerort in Hamburg is a keystone of logistics in Europe and has excellent future development prospects. We look forward to working together with our partner HHLA to unleash the existing potential and further develop the terminal," said Zhang Dayu, Managing Director of CSPL.
The closing of the transaction is still subject to competition and foreign trade approvals.
Kindly like us on Facebook