The National Agency for Food and Drug Administration and Control has cautioned Nigerian citizens against the use of the Hyaluronic acid X3 face mask manufactured by South Korea's Skinlite, noting that the product has been banned.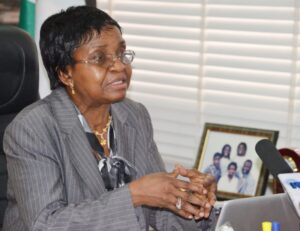 NAFDAC said the alert on the face mask is issued as a result of safety information gotten from the European Rapid Alert System for dangerous non-food products.
The NAFDAC public alert with No. 0036/2022 signed by NAFDAC Director-General, Prof. Moji Adeyeye, was posted on the official website of NAFDAC.
According to the alert, the product contains an ingredient that can negatively affect an unborn child's health, the reproductive system and cause skin reactions.
The statement by the agency partly reads, "The product contains butylphenyl methylpropional (BMHCA), which is forbidden in cosmetic products.
"BHMCA may harm the reproductive system, and the health of the unborn child and may cause skin sensitisation. The product is widely distributed via online stores. These online customers should be Vigilant."
Prof. Adeyeye implored importers, distributors, and retailers to immediately discontinue importation, distribution, sale, and use of the Hyaluronic acid X 3 face mask manufactured by South Korea's Skinlite.
The Director-General further warned members of the public in possession of the recalled lots of the product to stop the sale or use and hand over stock to the nearest NAFDAC office.
Kindly like us on Facebook/twitter