"I don't know if elections into the CRFFN Governing Council is going to be an open field for everybody"
Last week, the Registrar of Council for the Regulation of Freight Forwarding in Nigeria, Mr Samuel Nwakohu met with journalists in Lagos. The meeting was a build-up to the CRFFN maiden Graduation ceremony which held in Lagos last weekend. Shipping Position Daily was there. Here a few of the issues that came up.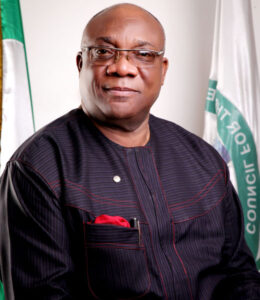 There is a graduation coming up on Saturday, how many graduands of CRFFN are we pushing out?
We have about 400 of them.
The spread of the institutions that are partnering with the Council.
I strongly believe that the institutions are well spread out. As much as I can remember, I know we have UNILAG which is in the South West. We have the Federal University of Technology Owerri (FUTO) and also the University of Nigeria (UNN) Nsukka in the South East. In the North, we have Umaru Ali Shinkafi Polytechnic, Sokoto and also Nigerian Institute of Transport Technology (NITT) Zaria. We have quite a number of others too.
What will be the impact of this training on the nation's economy and the Maritime industry in particular?
I believe it is going to have a great impact; in the sense that freight forwarding is a subsection in the maritime industry that generates money for the Federal Government in terms of duty paid to the Customs. Also, if freight forwarders are educated, I believe it will have a positive impact in the sense that they will become more efficient, knowledgeable and also turn around the economy.
When is the deadline for the minimum educational requirements for freight forwarders?
I did say December this year. That simply means that if you have not obtained the minimum requirement, you could be delisted from the register of CRFFN as a freight forwarder. If you continue to practice, you will be sanctioned.
What level of cooperation are you getting from the freight forwarding associations as regards training?
We are getting a whole lot of cooperation. Most of them are sending in their members for the training. They are very cooperative. I can also tell you that some associations like NAGAFF have their own training for their members. Although it is very controversial, we have sat down and discussed it and I think the idea is good. Whether we can go ahead to accredit it, we are still talking about it. It is important to get it right. We have a training institution and the freight forwarding associations have their members. Are they the ones to issue themselves certificates? But on the whole, I think it is a good idea. They are looking after the technical welfare of their members. I don't regret that as at today, we haven't done it because it is something that has to be well thought out, so that there will be no proliferation because we are talking about members of an institution certifying themselves. Generally speaking, I think it is a good idea.
Have you been getting maximum support from the freight forwarders in terms of POF collection?
I don't know what maximum support means, but compliance is still very low. If you look at the projection we have, (of N5Billion a year) and on the average a day we get not less than N2 million. It is going to be tough. But I believe that as more as terminal operators begin to enforce, it will get better. The problem with the terminal operators is that when they all start enforcing, the level of compliance will go up considerably, because right now, it is less than five per cent. We achieve less than five per cent of our projected revenue which is poor. But the good thing is that we have started.
Does the Council have plans to accredit more freight forwarding associations? A few of them are springing up and they are agitating for accreditation.
In the first place, accrediting of association, to my understanding is a function of the board. But if I have the opportunity to advise the board, I think I will look into something else. We are gravitating towards professionalizing freight forwarding. If you look at other professional bodies, they have just one association with chapters all over the country. I'll advise the board to tilt towards that. This is because how many will they accredit? We have five now, and quite a number of them have become extremely hostile. Everyone wants to be accredited. At the end of the day, there will be so many that you can no longer manage.
Is the election into the Governing Council work in progress?
I believe so. The likely date is any moment from now. I don't know if it is going to be an open field for everybody.
We are aware that the Minister of Transportation is meeting with every interested candidate in Abuja.
I know the Minister is a very fair-minded person. I am not aware that he is meeting with everybody. I know that he is meeting with those who collected forms; that is, all contestants.
That is why we are looking at it being an open field for those irrespective of their associations who are interested.
I don't know. Somebody called me the other day and we discussed this. He asked if the 6-6-1-1-1 arrangement or the association is part of the Act. I told him to look at Section 2g. It talked about persons. At times notwithstanding the position, we can agree on what to do by consensus as long as there are no objections. If the people in the industry agree to try it, it's fine. I believe the last time they tried it, it worked for them. This is because some schools of thought said if the smaller associations go for the elections, they might not even get one seat. It is possible that they might also get two. I think we need to strike a balance.
The CRFFN is the regulatory body for freight forwarders. But over the years we have discovered that freight forwarders seem to be the ones regulating themselves through the formation of Compliance Teams. What is the Council doing about this?
I don't think the associations are regulating. It is not true that over the years the CRFFN has not been doing their work. They are doing the best they can. If you go to the Act and see what the CRFFN has to do, you will see that it is different from what the compliance teams are doing. We need to draw a distinction here. The question is what does the Compliance Teams do? My understanding is that they are checkmating the terminal operators and the port environment to do what is right. That is not my understanding of regulation. However, let me say this, the associations have been set up for ease of administration. If they write us stating the problems and challenges that they have, we also have sister agencies that are responsible for those issues. It then becomes our responsibility to call those sister agencies, sit with them and see how the issues can be resolved. I will give you an example. Recently they wrote to us and a catalogue of issues was raised. The wrote to the Minister through my office and we called the shipping companies for a dialogue. This is because the issues raised were mainly against the shipping companies. We called about two meetings, but we couldn't conclude. I'm believing that we would go back until we are able to resolve the issues. That was because they wrote to us. We cannot do anything based on what we read in the newspapers. We need someone to make a formal complaint to the regulatory body, so that we can take it up.
We have had instances when containers fell off, injured or killed somebody. Letters were written to our office, we did something about it and we are still working on. We have a new system that we want to introduce. The containers must be able to sit on those trucks and must well-tightened because that will minimise containers falling from trucks, asides the bad roads, also making sure the drivers are not drunk and know what they are doing. We ensure they keep to traffic rules and they are not over-stressed. This is because if we have one driver leaving Lagos to Kaduna or Kano and he is not resting or sleeping, there are chances he may not get to his final destination safely because we are all human.
Kindly like us on Facebook