"The Board of Trustees led by Mustapha is the authentic board, registered and known by Law"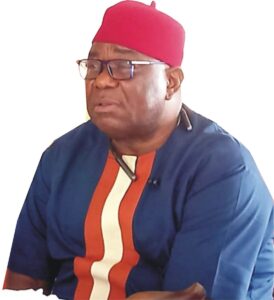 Recently, a leader of the Association of Nigerian Licensed Customs Agents in the South West address journalists on the various issues confronting the association. Shipping Position Daily Correspondents were there with these excerpts
Tony Nwabunike reduced ANLCA to an extension of NAGAFF?
Before now, you attended the inauguration of the appointed President of NAGAFF where Aniebonam said he was the person who advised our suspended President, Tony Nwabunike to take some actions by expelling most of the people including myself, the entire board of trustees, some chapter executives. He said he was the person who advised him to take that action and since he (Tony) took that action, peace has returned back to ANLCA and nobody disturbs him. We had heard it from him and Tony responded during his goodwill message that Aniebonam is an ally and he cannot go and do anything without him. He said he chose him as a father and most of the time he wants to take a decision he meets him (Aniebonam) for advice.
What is the real issue between ANLCA and NAGAFF?
It is on record that the 'almighty' founder of NAGAFF came out of ANLCA because of the tussle for position. He pulled away to form his association. It is also on record that since he pulled away, he has been going in opposite direction; under the leadership of Alhaji Sani Kamba, Peter Okocha, Ernest Elochukwu, and our former President; Olaiwola Shittu. You are aware that in 2007, we made every move by going to the National Assembly during the reign of former President Olusegun Obasanjo and the CRFFN came into being. The present NAGAFF founder, as a person came for the first election into the governing council of CRFFN with a different agenda and we defeated him. All the elected founding members of CRFFN came from ANLCA and everybody knows it. The crisis in ANLCA is a gain to NAGAFF and everybody knows what Aniebonam stands for. I worked in Apapa. I was elected. He appointed people to work with me, but I told him that there is a difference between someone that is elected and someone that is appointed and I cannot sit or work with him. I rejected having anything to do with him. He tried everything and I refused. Now that he is fraternizing with Tony Iju, where is he (Tony Iju) taking us to? We are not comfortable. We know his antecedent.
When should the tenure of the NECOM and others who were elected in 2018 expire?
If there is no court order and everything is working normally, our tenure will expire by February. But because of the court order, I Oforbike Alfred John obey the Court order. Again, the Nigerian Judicial system is very effective but slow. There are many instances in many places. We are not worried. We have got to the Court for it to take its position. We cannot take the other way round. If we do that, the government may end up proscribing the association which Tony Iju told me that he will be the last President of ANLCA and he is going to that level. We are not going to allow him, that is why we went to Court. Every wise person that is here doesn't take laws into their hands. The Court can be very slow, but in the end, it is effective.
Why has the BoT crisis of ANLCA not been resolved?
The members of the registered Board of Trustees are the real people who have passed through ANLCA and they want to give back to the association. There are some certain decisions they will take knowing fully well that it will not be good because the people from the other side are still our members. Hence, they have every right to appoint because the constitution of ANLCA permits them that when there is a vacant position, the board takes over. It is in the constitution. But some members of ANLCA who are not in the present Board consulted to have a round table and the other people from the other end approached us that they want peace. Our board accepted and a date was given. The AIG of Police Zone 2 sent his delegation for us to sit down, as our suspended President said he was sick and he was going to his mother's burial which was still in two months' time in other to delay the whole process. Our people agreed to allow him to return before we continue from where we stopped. Based on this, some other concerned members of ANLCA, and Ex-Presidents came to intervene. That was why the current registered Board has not taken that decision. The matter is still in Court, so the Board of Trustees doesn't want to immediately take a decision that will destroy the association and make it difficult for our brothers to come back. The Board is aware of their moves and that is why the Board has not gone to take the other way round.
Who are the real registered members of the BoT of ANLCA?
It is no more news that we are registered Board of Trustees of the association. You all know it and that is the Board registered by law. If they have another one that is registered, they should show you. As far as I am concerned, you are aware that the Board of Trustees led by Alhaji Mustapha is the Board of Trustees registered by the Corporate Affairs Commission. The Judge told them not to do anything and they went ahead; doing so many things against the Law. So the Board of Trustees led by Mustapha is the authentic board, registered and known by Law. There is no other Board. If there is another Board, please let us have their certificate.
But the case is still in Court?
The Court said we should not parade ourselves as executives until the determination of the case. You are aware that nothing is expected to be done when a Court gives an order; until that order is terminated and a ruling is given. The case is still in court and will be resolved this month. The moment the Courts give an order not to do something, anything you do is null and void.
What's your take on the CRFFN governing council elections?
(Dr Boniface) Aniebonam is a deciding factor on who should go and who should not go. Personally, I know the aims and objectives of CRFFN have been defeated and taken over by the government. They have become a parastatal of Government in order to generate money for the government and the people who are members of the governing council. I personally, and ANLCA's present position is that going into that election will never take us anywhere. Until there is a level playing ground where the Council will now conduct elections the way elections it is being conducted in Nigeria and not someone deciding who should go and who should not go. That is my stand as a person.
Who is responsible for the crisis in ANLCA?
The worse thing that can happen to any organization is when you have bad leadership; when you have elected bad leadership. When you elected bad leadership, it is like cancer. When cancer comes into the system, you need to take an action. Our bad leadership contributed to where we are today. Definitely, we have crises. Look at it today, you are talking about ANLCA; when Shittu was there when we never compromised our position. Some people came into the association believing it is an avenue to make millions. Go and find out from the Customs, shipping companies, and terminal operators. The so-called leaders have sold the mandate given to them by the people.
Kindly like us on Facebook