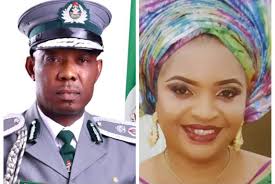 In response to the recent appointment of Comptroller Dera Nnadi as the Customs Area Controller for Tin Can Island Port (TCIP), Princess Chi Ezeh,  a Governing council member of the Council for the Regulation of Freight Forwarding in Nigeria (CRFFN), has expressed her confidence in his ability to effectively balance trade facilitation and revenue generation at the port.
Princess Chi acknowledged that finding equilibrium between these two crucial aspects is a formidable challenge faced by Customs officials across various ports and border stations in the country. She shared her views during a conversation with reporters in Lagos.
Given Nigeria's current economic situation, she emphasized the importance of Customs and other government agencies prioritizing trade facilitation while also maintaining a focus on revenue generation. She noted that Comptroller Dera Nnadi has a proven track record as a revenue mobilizer, evident during his tenure as the Area Controller at Seme Border.
She stated that during that time, despite challenges related to cross-border trade, Comptroller Nnadi led the Customs Command to exceed its 2023 fiscal revenue target by more than N122 million, accomplishing this feat with over three months to spare.
Princess Chi, speaking from the perspective of a freight forwarder, emphasized the role of the Area Controller in shaping the business environment. She highlighted Comptroller Nnadi's collaborative approach and his efforts to remove illegal checkpoints on the Seme/Badagry expressway, demonstrating his commitment to ease of doing business.
Regarding his recent appointment as TCIP Area Controller, Princess Chi praised the introduction of a 9 am schedule for cargo examination and robust stakeholder engagement as positive initiatives. She welcomed Comptroller Nnadi back to TCIP but encouraged him to maintain his high standards and strive for continuous improvement in his new role.
She expressed confidence in Comptroller Nnadi's ability to effectively manage the delicate balance between trade facilitation and revenue generation at TCIP, citing his reputation as a revenue mobilizer and a distinguished career officer.