Clearing agents otherwise known as freight forwarders have said the Council for the Regulation of Freight Forwarding in Nigeria (CRFFN) lacks the technical abilities to license them, this is even as some of the freight forwarders have asked that the licensing of agents should be a permanent responsibility of the Nigeria Customs Service (NCS).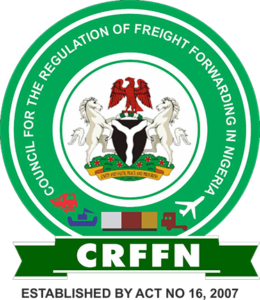 Reacting to a recent statement by the former Executive Secretary of Nigeria Shippers Council (NSC) Mr. Hassan Bello, calling on the Federal Government to strengthen the Council. Bello had at the recent maiden graduation ceremony in Freight Forwarding and Supply Chain Management of CRFFN in Lagos, urged that the Council needs to be strengthened to grant operational licenses to freight forwarders.
He had stated that licensing of clearing agents by the Nigeria Customs Service is archaic and local, even as he added that freight forwarders need to take their rightful place in the port business.
However, reacting to the statement, some freight forwarders rejected the move, stating that CRFFN lacks the technical knowhow when it comes to regulating freight forwarders, while others said the council is not matured enough to be given such responsibility.
In a chat with our correspondent the Coordinator Save Nigeria Freight Forwarders Importers and Exporters Coalition (SNFFIEC) Chief Osita Chukwu opined that the responsibility will be out of place for the CRFFN, this is even as he maintained that the council lacks the technical capacity to license agents.
He said CRFFN, as a regulator should have the understanding of the freight forwarding sector, but said many of CRFFN staff do not know what the freight forwarding is about.
According to him, "the responsibility will be too much on them, because they lack the technical know-how, how will they do that, they don't have it, what you don't have, you don't have. CRFFN does not have anything to offer, what they do is that they just secure themselves with vehicles and continue to run their own personal job, they don't have anything to do".
Also speaking a freight forwarder and immediate Chairman Tincan Chapter of the Association of Nigeria Licensed Customs Agents (ANLCA), Mr. Segun Oduntan said the Council is not matured enough to be given that responsibility, he said the Council is yet to get to that stage but however said when the Council is matured enough, such responsibility will be a welcome development.
"They are not matured enough for that, maybe by the time they are fully-matured and have come out from their embryo, we can start talking about that, but don't forget we are working under the Ministry of Finance, but because of the nature of work as freight forwarders we are under the Transport Ministry. So when it comes to the issue of payment of licensing, the government can decide who to license for regulation, Nigeria Medical Association is being regulated by the Nigeria Medical Council, so there is nothing wrong if the CRFFN is matured enough to license agents, but not at this premature stage, until they come out of their embryo, that responsibility will be an herculean one" he said.
Also speaking, Mr. Chidi Anthony Opara a freight forwarder also informed that the call for CRFFN to license clearing agents was a wrong one, questioning why CRFFN, a professional regulatory body should license customs agents.
He noted that professional certification all over the civilized world is on the basis of natural persons, who must be qualified both in learning and in character before being certified. He added that Customs agency licensing is a way of keeping tabs on corporate entities who receive monies meant for customs duties from importers for payment into the coffers of government.
He however pointed out that the CRFFN establishment Act of 2007, stipulates that in issuance of licenses or renewal of licenses, the Customs must request documentary evidence of CRFFN (corporate body) certification.
On his part, the Vice President ANLCA, Dr. Kayode Farinto however said licensing of agents by CRFFN is not out of place for freight forwarders, even as he said that the level of compliance by freight forwarders must have increased before the council can embark on such.
He lamented the double taxation collected by Customs, this is even as he said the management of the Customs service at times use the renewal of license to fight agents whom they believe is antagonizing their cause. He informed that Customs charges N200,000 as license fee every year with each command of the service collecting another N15,000 before any agent can operate in any of the commands.
Kindly like us on Facebook