The Council for the Regulation of Freight Forwarding in Nigeria, (CRFFN) has held a one-day sensitization workshop for freight forwarders in the Eastern Ports on payment of the Practitioners Operating Fee (POF) in the CRFFN portal.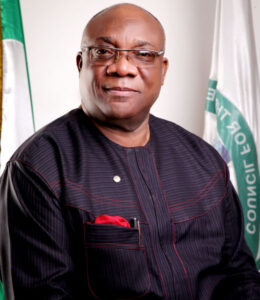 Registrar of CRFFN; Barr Samuel Nwakohu while speaking during the workshop which took place in Port Harcourt said the workshop was organized to educate freight forwarders operating in the Eastern Ports on on how to pay the Practitioners Operational Fees (POF) using CRFFN online portal.
The Registrar who was represented by Mr. Basil Opara, Director, Regulation and Enforcement educated the practitioners on how to access CRFFN Portal with their membership number and their password among others.
Opara stated that the programme with the theme: Sensitization and Demonstration of CRFFN Portal Registration, Annual Subscription and Processing of Practitioners' Operating Fee (POF) Payment was to enable the operators to pay their fees online with ease.
He noted the importance of the payment as an Internal Generated Revenue (IGR) to the Federal Government, stating that 35 per cent of the fee paid goes back to the freight forwarders, 25 per cent of the fee goes into the government account, while 40 per cent goes to the CRFFN.
Similarly, the Deputy Commissioner of Police, (DCP) Monday Agbonika, in Charge of Warri, Calabar and Onne ports said that the payment of the operation fee online would ease aid security and peace keeping of the ports.
Agbonika who represented the Commissioner of Police in charge of Eastern Ports; Tamunoemi Peterside stated that the online payment would help investigation of crime, especially for tracing and tracking of payment without forgery of documents.
Also addressing the practitioners, Mr Sunji Audu, the Zonal Coordinator Special Control Unit Money Laundry (SCUML) in Economic and Financial Crime Commission in Port Harcourt said that the Commission monitors, supervises and regulates activities of designated non-financial institutions which include clearing forwarding.
Audu urged operators to obtain evidence of registration, ensure that they comply with all the laws as it is in money Laundry of the provision Act as well as the Federal Ministry of Industry Trade and Investment of non-financial institution regulations 2013.
He advised them to keep records of all transactions and ensure they carry out proper Customs identification when they are doing business to avoid EFCC sanctions when they come for inspection.
Kindly like us on Facebook