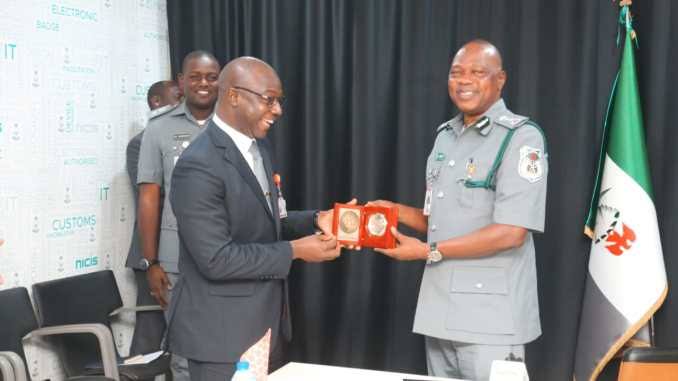 The Acting Comptroller-General of Customs Service, Bashir Adewale Adeniyi has expressed his management team's eagerness to collaborate with the National Center for the Control of Small Arms and Light Weapons (NCCSALW) in the battle against the trafficking of Small Arms and Light Weapons.
The Acting CGC conveyed this commitment during a meeting with the Coordinator of the NCCSALW, Maj. Gen. Abba Muhammad Dikko (rtd.), on September 5, 2023, at the Customs Headquarters in Abuja.
Highlighting the Customs Service's history of seizing illicit small arms and light weapons concealed in various goods, including bags of rice, the CGC stated, "This is not the first time Nigeria Customs Service has been contributing to eradicating the menace of the proliferation of small arms and light weapons."
It's worth noting that in August 2023, the Service successfully intercepted over 1,000 live ammunition hidden in 203 bags of foreign rice in Abeokuta, Ogun State.
The Customs boss not only expressed his appreciation for the visit by the NCCSALW team but also stressed the importance of increased intelligence and data sharing. He said, "We will be looking forward to having a deeper collaboration with the center in terms of your database."
Furthermore, he assured that the Nigeria Customs Service would support the NCCSALW by seconding more Customs Officers to work with the Center. He emphasized the role of intelligence, noting, "most of the seizures that have been credited to Customs are done through gathering credible intelligence."
In response, Maj. Gen. Abba Muhammad Dikko (rtd.), the Coordinator of the NCCSALW, congratulated the Acting Comptroller-General on his appointment and praised the Customs Service as a significant force in combating illicit arms in society. He highlighted the crucial role played by Customs in intercepting illicit arms at the country's borders and emphasized its contribution to national security.
Dikko expressed gratitude for the Customs Service's unwavering support in participating in his Agency's programs. He emphasized that the sustained synergy between the two organizations would not only aid in curbing small arms and ammunition proliferation but also contribute to generating revenue for the Federal Government.