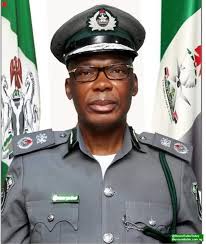 Comptroller Saidu Abba Yusuf has assumed office as the new Area Controller of the Ports and Terminal Multiservices Limited (PTML) of the Nigeria Customs Service in Lagos, following the statutory retirement of Comptroller Mahmoud Ibrahim, the former CAC.
The occasion was held at the command headquarters in Lagos on Monday the 5th of June, 2023.
The new CAC commended his predecessor for a job well done and asked for maximum cooperation from the operatives and stakeholders of the PTML.
He commended Mahmud for setting up mechanisms for increased revenue collection, trade facilitation, and strict enforcement, as he also urged all port users operating in PTML to make compliance a lifestyle.
According to him, compliance saves clearance time, improves revenue collection, and builds up the integrity rating for traders towards enjoying fast-track benefits and possible migration to the status of the Authorised Economic Operator (AEO).
"Voluntary compliance creates a win-win situation for everyone as it prevents losses that result from seizures, demand notices, and penalties which come in the course of enforcement," Yusuf added.
He assured the PTML management, bonded terminal operators, shipping companies, importers, exporters, freight forwarders, and haulage operators of an open-door policy to sustain and improve on the template of trade facilitation.
He also noted that the command will rigorously implement all government policies, including those that encourage ease of doing business without compromising national security and government revenue.
Comptroller Yusuf hails from Idah Local Government Area of Kogi State but was born in Kaduna.
He obtained a Bachelor of Arts (B.A) degree in History from the University of Maiduguri, Borno state. He also holds a Master's degree in International law and diplomacy (MILD) from the University of Lagos.
The CAC joined the Nigeria Customs Service in 1991 and has vast experience spanning over three decades in the Service.