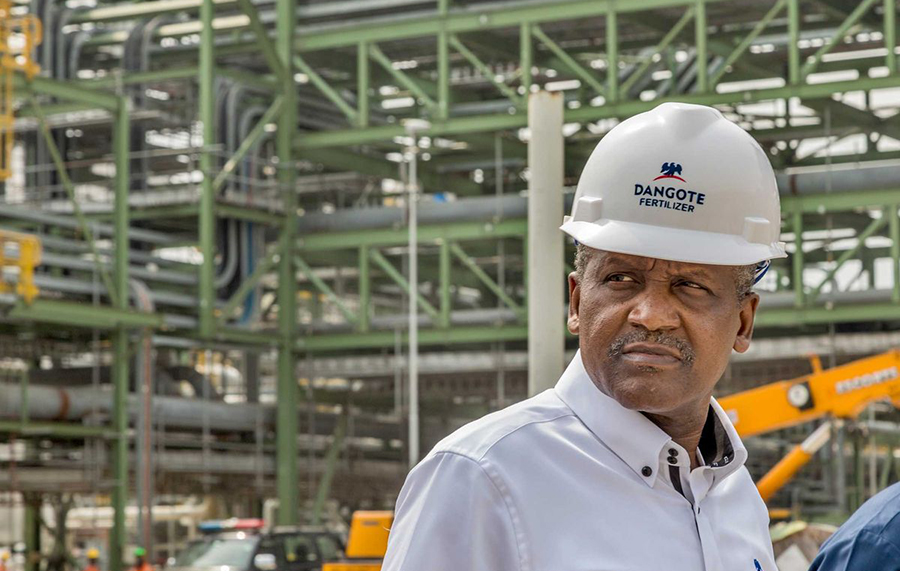 With installed capacity of 650,000 barrels a day and the capacity to produce about 60 million of Premium Motor Spirit (PMS), 20 litres of kerosene and 9 million litres of diesel, the Dangote Refinery will be earning about $21 billion a year for Nigeria when it becomes fully operational.
The design to produce these petroleum products was done by Jacobs Engineering and Dangote licensed the Honeywell UOP for the basic engineering design. On a daily basis, it is expected that this facility will be producing these three major petroleum products.
Although there is no large sub-sea pipeline infrastructure (SSPI) connected to Oil and Gas blocks in Niger Delta region to supply feedstock to the refinery however there is Single Point Mooring SPM buoys that will be used for input crude supply.
For the output of petroleum products a six-lane road infrastructure is included in the total plan of the facility but for now a three SPM buoys will be used for output.
The three SPMs will ferry petroleum products out to vessels on the sea for export.
"We have facility to evacuate through roads, we have large loading capacity (103 loading terminals) and we can evacuate 75 per cent of our production through road and we can evacuate 75 per cent of our production through the sea so that if we want to export," Dangote officials had said.
Built by billionaire industrialist Aliko Dangote, the refinery is located in Ibeju-Lekki, Lagos, covering a land area of approximately 2,635 hectares (seven times the size of Victoria Island).
The refinery is billed for commissioning by President Mohammadu Buhari on May 22.
The facts revealed that Dangote Refinery can meet 100 per cent of the Nigerian requirement of all refined products (Gasoline, 53 million litres per day; Diesel, 34 litres per day; Kerosene, 10 million litres per day and Aviation Jet, 2 million litres per day) and also have surplus of each of these products for export.
Besides, the refinery is laced with 435 Mega Watts (MW) power plant, which is said to have capacity to meet the total power requirement of five states.
The facility has 177 tanks of 4.742billion litre capacity, while the temporary housing units on the premises can house 33,000 persons.
Designed to source 100 percent Nigerian crude with flexibility to process other crudes, the fact sheet revealed that diesel and gasoline products from the refinery will conform to Euro V specifications.
For easy off-take of products, the plant is constructed with two quays with a load bearing capacity of 25 tonnes/ sq meter to bring Over Dimensional Cargoes close to the site directly. It constructed two more quays in the port with a capacity to handle up to Panamax vessels to export the fertiliser and the petrochemicals and two quays to handle liquid cargoes. The port will thus have six quays, including a Roll-on/Roll-off quay.
Dangote is one of the few companies in the world executing a Petroleum Refinery and a Petrochemical complex directly as an Engineering, Procurement, and Construction (EPC) Contractor. Globally, apart from three companies, no individual owner has done the complete EPC Contract for a Petroleum Refinery.
The company is training of 900 young engineers in refinery operations outside the country, while another six mechanical engineers were trained in the GE University in Italy. Also, 50 process engineers have been trained by Honeywell/UOP for six months; and 50 management trainees.
Follow us on Facebook/ twitter