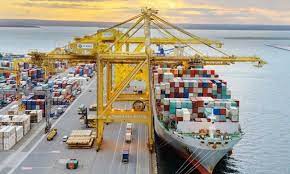 Port users have responded angrily to DP World Australia's planned increase in terminal fees of up to more than 50%  at its Brisbane, Melbourne and Sydney operations.
The terminal operator issued a notice of intent to increase its terminal access charges (TACs) on 1 January by 37.5% and 26.2% respectively for exports and imports at Brisbane, at Melbourne they will rise 52.5% and 21.2% and at Sydney by 38.8% and 25.5%.
Ravi Sheshadri, VP commercial for ports and terminals, said: "We forecast more than A$600m (US$386m) in capital expenditure across 2023-2026 across our four terminals in key equipment, civil expansion works and other equipment to cater for greater landside demand."
However, Paul Zalai, director of Australia's Freight and Trade Alliance, said: "The federal government sit back like stunned mullets, failing to act on the Productivity Commission's recommendations [the need for more terminals, to increase competition, and better infrastructure], leaving us with no option but to ramp up noise about this whole situation."
And while Brisbane, Melbourne, and Sydney will see these hefty percentage increases, at the port of Freemantle, TACs rose just 5% for both imports and exports.
Neil Chambers, director of the Container Transport Alliance Australia, said on LinkedIn this was the result of there "still being government oversight and intervention in Western Australia".
He added: "This shows that it is a 'free-for-all' on the east coast, with little in the way of landside fee pricing constraints."
Speaking to Australian Financial Review, the country's former competition watchdog chair, Graeme Samuel, accused the federal government of having a "light touch" in regulating stevedores, and urged it to take control of the model of privatisation that had led to "rampant high prices".
Nina-Christin Buelk, CH Robinson key account manager for Brisbane, said the planned increases were "daylight robbery," and that Australian charges were already "exorbitant".
Meanwhile, DP World Australia is caught in a labour dispute with the Maritime Union of Australia, which ordered a series of 24-hour work stoppages set to continue into the third week of November.
At the heart of the dispute is a proposal from the terminal operatopr for a flexible roster system, which it claims would be "better suited to the needs of its customers".
The MUA contends the roster would mean a dramatic increase in weekend hours its members would work and effectively represent a 32% pay cut. And it countered with calls for a 7.4% pay rise that would reflect that offered by rival operator Patrick earlier this year.
DP World has demanded the end of industrial action before returning to the table.