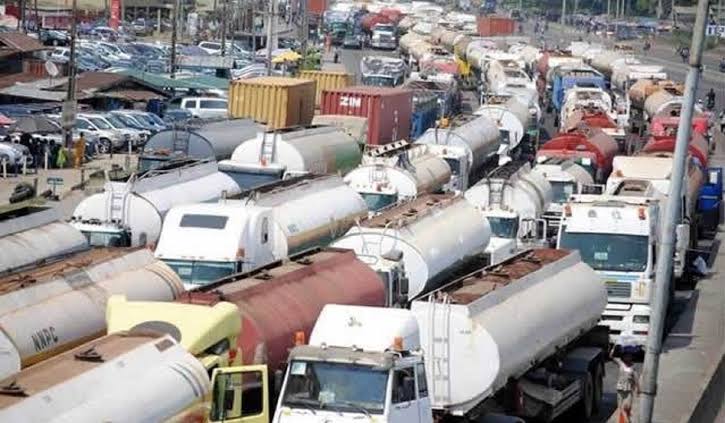 Findings by Shipping Position Daily have revealed that despite the ultimatum given by Lagos State Governor Babajide Sanwo-Olu to tanker drivers to vacate the Oshodi-Apapa Expressway, the drivers have remained defiant and have refused to vacate the expressway.
Two weeks after Governor Sanwo Olu issued the ultimatum, our correspondent, who monitored the activities of the tanker drivers along the route last week, observed that despite the ultimatum which was aimed at addressing the problem of indiscriminate parking along major roads, the situation around the Mile 2 axis on the ever-busy Apapa – Oshodi remains dire. Many of the tankers were seen in large numbers lining up from Mile 2 to the Coconut end of the Tin Can Island port on the expressway. Since Governor Sanwo Olu's ultimatum two weeks ago, no significant progress has been made to ensure that the tanker drivers remove their trucks.
However, speaking to our correspondent, the Chairman of the Nigeria Union of Petroleum and Natural Gas Workers (NUPENG), Mr. Tayo Aboyejo, denied allegations that tanker drivers are responsible for the road blockage.
According to Mr. Aboyejo, "the tanker drivers are not on the road; those you see are going to depots to pick products."  He also mentioned ongoing discussions with the government about implementing an electronic call-up system to regulate depot access, which could potentially alleviate future traffic congestion caused by unregulated tanker access.
In a chat with the Executive Secretary of the National Association of Road Transport Owners (NARTO), Mr. Aloga Ogbodo, he acknowledged that tanker trucks were not supposed to park on highways or flyovers in Lagos State. He clarified that these roads and bridges were designed for transit vehicles and not stationary ones.
Aloga however explained that there were underlying reasons for the presence of tankers on Lagos roads and the implications of any forced relocation. He stressed that if the government mandated the removal of tanker trucks from Lagos highways, it could result in fuel scarcity in the country. He noted that the truck drivers were not at fault but were operating in response to the prevailing circumstances
According to him, Nigeria has approximately 30 petroleum product depots scattered throughout the country, and each of these depots is meant to receive petroleum products. Aloga lamented that the major challenge faced is the non-functionality of many depots due to pipeline vandalism. He stressed that if these depots were operational, tanker trucks would not need to cover long distances and pay higher transportation costs.
The NARTO Chieftain highlighted that the government's regulations required depots to have adequate truck-holding bays, which many depots lacked. He said this has contributed to the parking challenges on Lagos highways.
In his words: "Ordinarily, in fairness to the people of Lagos State and the Government of Lagos State, tankers are not supposed to be parking on the highway. They are not. It's really unheard of because that road and those bridges you see are meant for transit vehicles. They are not meant for stationary vehicles. So they are not supposed to be parking on the flyovers. But if you come to think of it, you know there are close to 30 depots in this country, scattered all over the country, and each of these depots is supposed to be receiving petroleum products.
"There is no moral justification why we chose to come from Kaduna to come and pick products in Lagos. Because we have depots there where we take them to our pumps, we go there and load them to the depot there to discharge at the appropriate discharging point. These depots are not functional because of pipeline vandalism. So if the depots were functional, the trucks would not be paying the full cost.
"Then again, the government says before depots that are supplying these products receive tankers, you must have a truck holding bay that has a capacity of at least 40 or 50 trucks as the case may be. These depots do not have those holding bays. So, from what I have seen, which problem is it and who is at fault? So does the tanker have any fault there?  So, if now they say the tanker should move away, they move away, what is it? If they say they should move away, basically, my intention, I will say I am not at fault, but if they decide to take our truck and move away, in line with the government's instructions, what is going to happen?  This means they will not load and the result is that there will be scarcity of fuel in the country" Aloga noted.
Meanwhile, commuters and business owners along the Apapa Oshodi Expressway, in a chat with our correspondent, lamented the lack of enforcement by the Lagos state government to ensure that tanker and truck drivers vacate the roads.
One of the tanker drivers who identified himself as Sulaiman said it would be impossible for them to vacate the road, stating that they only come to pick up petroleum products when it's necessary. He questioned why the governor would ask them to leave the road and why he has not addressed the activities of containerized truck drivers who have turned the Mile 2 express road into a parking lot.
In a related development, another tanker driver, who identified himself as Mr. Ibrahim Alli, shared his perspective on the matter while emphasizing that tanker drivers face a significant challenge when it comes to finding suitable parking spaces near the port in Lagos. He noted that without proper parking facilities near the port, it would be difficult for them to vacate the highways.
Mr. Alli stressed that while they understood the concerns regarding road safety and traffic congestion, there needed to be a viable alternative for tanker drivers to park their vehicles while accessing the port.
Also speaking, a business owner, Chukuemeka Anagor, said, "this government is the weakest that Lagos state has ever produced. His ultimatum means nothing to the tanker drivers. Didn't he give an ultimatum to the Okada riders? In fact, it was after his ultimatum that the number of Okada riders on this road doubled. The tanker drivers know that he is very weak, and that is why they have continued to defy his orders.
"I am neither optimistic nor pessimistic. We only hope the government will do the right things and match words with actions," he said.