Oluyinka Onigbinde
Stakeholders in the Nigeria maritime industry have urged maritime students to develop critical thinking skills and dream that will help to drive the nation's largely untapped potentials in the blue economy.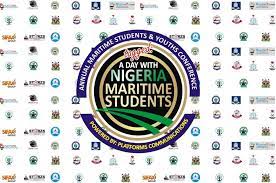 The stakeholders stated this during the 6th Annual Maritime Students and Youth (AMSAY) conference with the theme, "Job Creation For Nigerian Youths Through Maritime Sector", organized by Platform Communications in Lagos
While delivering his goodwill message, a senior lecturer at the Federal University of Technology, Owerri, Prof. Callistus Ibe challenged the students to be creative and innovative, saying that these were the 21st century knowledge skills.
Professor Ibe urged the students to develop their knowledge and skills to benefit from the untapped potentials in the maritime sector.
He disclosed that the organizers of the conference had selected 60 technocrats in the maritime industry as mentors, even as he advised them to start picking those wealth of knowledge and experiences to become the future experts in the maritime industry.
He said: "I have no doubt in me that the organizers of this AMSAY conference 2022 wants you to become better professionals and better people hence this gathering of different professionals with different experiences and students from different schools offering maritime studies in Nigeria to come together and interact in a conference of this type. You cannot get it elsewhere. This is a rare opportunity in one's academic life. Those of us here, your mentors never had this kind of opportunity, we lost it. We didn't have it, but in your own case, you are having it.
"I therefore urge you to make good use of this privileged opportunity and ensure that you maximize the greatest value of having these experienced professionals so that you can in turn become better professionals in future".
Speaking also, the Founder and President, African Marine Environment Sustainability Initiative, Dr. Mrs. Chinwe Felicia Mogo, advised the students to discover themselves first in whatever they set out to do; who they were and who they want to be.
"When you are able to tell yourself the truth, then, you kick off from there and if you discover yourself and know who you want to be, then you focus on those qualities that will make you who you want to be and not what you want another person to be; just you this time", she advised.
While insisting that nobody wanted to be that person that would be used as an example of a bad egg, she urged them to keep focus and pay attention to details.
"Focus on the important things and put yourself together, focus on your studies, get the best result and you will know whether you have job or not because once you have that knowledge, you will be able to diversify. You may not actually wait for somebody to employ you because you may end up becoming employers of labour.
Earlier in his opening speech, the Executive Director, Nigerian Institute of Oceanography and Marine Research, Prof. Capt. Abiodun Sule who also doubled as the Chairman of the occasion informed the students that there were lots of opportunities in the maritime industry.
He added that the Blue Economy which was about the maritime sector came with different jobs descriptions and opportunities.
"I give you some examples, energy is being harnessed from the Blue Economy, black gold is being harnessed from the Blue Economy, tourism goes on with the Blue Economy, shipping goes on in the Blue Economy and all these require manpower.
"And so, I believe that if the youths are trained to come into this industry, we can take away a great number of our youths out of the shelf of unemployment because if you see today in the maritime sector, most of the players in the maritime sector are not Nigerians.
Prof. Sule who was represented at the event challenged the youth to come up, take up the challenge, even as he insisted that before they take up the challenge, the older ones in the maritime sector should nurture them and help them to get to that desired place.
Kindly like us on Facebook