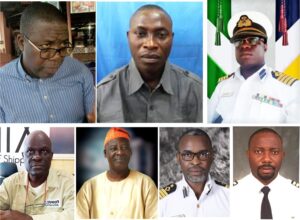 Captain Deji Abegunde
The Cabotage Act has been poorly implemented. This is because the illegal waivers they give these foreigners have actually crippled Nigerian practitioners. They hardly get employed or have jobs to do. Apart from that, the disbursement of the CVFF has created a lot of backslide in its progression especially for indigenous ship owners' association. All the Nigerians that are having ships before can no longer secure again. The money is kept there and someone else is keeping it with no accountability. The two major causes for this poor implementation are the waiver and the failure to manage and defend the funds.
Engineer Matthew Alalade (Former President, Merchant Navy)
The Cabotage Act is now global; that is, some countries have already started its implementation. We do not have schools to train our people and many of our certificates are not recognized. With these, it will take some time before the Cabotage Act can work.
You must look at the concept globally. The regulatory bodies have tried, but for it to be fully harnessed, the schools here must be upgraded so that we would be viable without restrictions.
Captain Alfred Oniye
About 50 percent of the Cabotage Act has not been implemented. Looking at the four pillars of the Act, it states that the ship must be built, owned, manned and crewed by Nigerians, but it is not so currently. We don't have ship building companies in Nigeria, which means most of the vessels are being built outside the country. Most of the ships you see on Nigerian waters are owned by foreigners. This has made the Cabotage Act to be 50 percent implemented. There are over 40 percent of ships on Nigerian waters that are not on waiver. Anyone that says the Cabotage act has been fully implemented is only deceiving the public because the four pillars of the Act have not even been touched. What has stopped NIMASA from allowing foreign investors to come and build ships? This however gave birth to the granting of a 2-year waiver to foreign ships. We currently have some foreign captains who have even spent more than 8 to 12 years on Nigerian waters. These are the facts.
Captain Tajudeen Alao (President, MMA)
The Cabotage Act is supposed to address the issue of unemployment among seafarers where our people can be trained and get employment. But unfortunately, it has not. There are certain special courses required by the oil and gas sector that were not available locally, but now they are available. If we try to guide our Cabotage Act judiciously, more of our people will get employment. We must be on top of our game in this area. We shall be there if we are serious and focused.
Captain Ishola Adewale
I would say NIMASA is now enforcing ensuring that Nigerian Seafarers and the ships are trading within our Cabotage region. We just need to work on ourselves to have more Nigerian ships. You can tell that we are not building our own ships at the moment. So the Cabotage waiver for shipbuilding in Nigeria will still be there for as long as possible. At the moment, they are doing their best.
Engineer Bob Yousuo (President, NMOWTSSA)
The Cabotage Act has not been fully implemented. The ships are not owned by Nigerians, so how do you expect it to be implemented? I have not seen a vessel that is totally owned by a Nigerian and did not follow the due process of the Cabotage Act. Many people don't understand the intrigues. Many of these vessels are not owned by us. We only went there as middlemen for the vessels. Many ship owners are just like operators. The real ship owners will want to put their representatives which led to the issue of seeking a waiver. Those implementing the Cabotage Act too, are not sincere with the implementation because of pressure from the higher authorities. In my opinion, Cabotage Act is not totally implemented in Nigeria.
Captain Waredi Eniosuoh
I think it was very difficult for Nigeria the host nation of the Cabotage Act to implement it. This was an Act that was taken from another person's territory that is the Jones Act. The danger of taking something from another country, especially a country that is so advanced like the United States is that they are able to cover a lot of things that they are going to recognize. For example, they build ships, but I've not seen a ship being built in Nigeria.
We are not a shipbuilding country. We also have a limitation of the crew in the sense that if a ship is going to Europe, you need a crew with unlimited license and we don't have such license in Nigeria. Before the Act was implemented, they should have also looked at how they are going to develop that capacity. It is really not the fault of NIMASA or the regulators. It was just put on them, because Nigeria is just a host platform for it. They even tried by coming up with some exemptions, such as the waiver which was like a solution to the things we could not achieve. It is necessary we address foundational issues before we take on the Act.
Kindly like us on Facebook