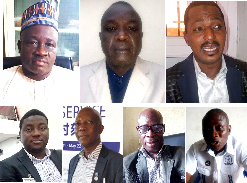 Aloga Ogbogo (NARTO Chieftain)
It depends on the angle you are looking at it from. Basically Nigeria is an importing nation. I think that does not make us a maritime nation. We have a very negligible percentage of export in terms of cocoa, timber and other raw materials. For you to be a maritime nation, you must be an exporter. I do not see us being in a critical position as far as export is concerned.
To be a maritime nation, you must have some basic infrastructure. The state of the roads for the transportation of these goods are very bad. The hiccups in terms of doing business are cumbersome in Nigeria which is also an impediment. We have a high level of extortion here and there. The government is supposed to provide the infrastructure and raw materials and incentives to make this nation a maritime nation. The legal framework is also not helping matters.
Mr Leonard Ogamba (President SALS)
As a shipper, I will say Nigeria answers the name maritime nation for the sake of just answering it. The reason is that; we cannot say we are a maritime nation when we cannot boast of one vessel flying our national flag. Anyway, since we are into international commercial shipping, we can on that basis say we are a maritime nation. Technically speaking we don't have that infrastructure on ground to say we can raise our head as a maritime nation in the committee of nations.
Dr. Segun Musa (Vice President NAGAFF)
Nigeria was once a maritime nation, but definitely not now. We lost the grip when we started engaging and appointing non-stakeholders to take charge of sensitive and core sectors like maritime. The government started privatizing the sector instead of deregulation to allow private sector participation. We killed the indigenous shipping lines owned by private sectors and the public sector, just because few powerful people in the government or agency of foreign lines got franchises. We killed the maritime status when we couldn't draft workable and appraisable policies to drive the sector and instead we allowed government nominated officials to use the sector as litmus tests. The status died when we allowed corruption to dictate the pace in the sector, rather than knowledge.
Captain Segun Akanbi (President of Maritime Professionals Forum)
A maritime nation is any nation which borders the sea and is dependent on its use for the majority of the following activities: commerce and transport, war, and any maritime activities. By the location of Nigeria on the world map, we are a maritime nation. But going by the activities within our maritime domain, we are far from being called a maritime nation. How much have we exploited the commerce of our territorial waters such as fishing, sea transportation, pleasure, shipping etc. We are definitely not stagnant, but the pace is very slow in relation to the resources we have at our disposal.
Babatunde Mukaila (National Secretary, ANLCA)
Speaking of Nigeria as a maritime nation, I would like to say that it is better late for Nigeria to be a maritime nation than never at all. Looking at the present upward mobile activity, the management of the Nigerian Maritime Administration and Safety Agency (NIMASA) and also the multimodal inter connectivity of the present regime, I think we are getting there slowly. Anyway, I will like to conclude by saying surely; Nigeria is becoming a maritime nation.
Innocent Elum (BoT Secretary, AREFFN)
Nigeria is a maritime nation of course. When you consider the fact that we have the sea. But what I think the question should be is that have we actually answered that name of being a maritime nation in terms of where we are at the moment, talking about the industry whether we have actually progressed as we ought to as a nation. The answer is No! This is because by now, we shouldn't still have human contact with our documentation through Customs. The point is that we haven't progressed very well like we should as a maritime nation.
Engr. Matthew Alalade (Former President, Merchant Navy)
I will say No. This is because we can say we are a maritime nation a few years back when we were accorded a seat at the International Maritime Organization. But now, we don't even have a Third class seat at the IMO. So how would you say we are a maritime nation? Most of the ships are not coming here. Many of them are anchoring at Lome, Cotonou and even to Ghana and Libya to do their business. So, maybe as from next year if we enter the IMO list, then we can say we are a maritime nation.
Kindly like us on Facebook/twitter