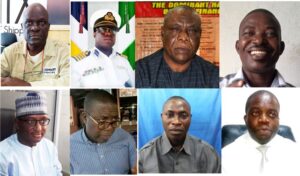 Captain Tajudeen Alao (President, Master Mariners)
It is a big deterrent. It has come too late, but also at the right time because shipping business has been affected a lot by the act of piracy. For many years you cannot prosecute pirates because they are outside our territorial waters and there is no jurisdiction, but now we have. If you are caught or implicated within the Exclusive Economic Zone, you will face the law.
The equipment will not only help us, but will complement the Gulf of Guinea. But if we have not done anything, they will not take us seriously. Now we have the equipment and manpower; so we can relate, contribute, support or be supported by the international community. Collaboration will be easy because we have something on ground. Also, we are now playing our leading role in the sub-region which is very important.
Captain Alfred Oniye
I don't see the solution being provided by NIMASA as the solution to the problem on ground. NIMASA is supposed to first, look at the causes of insecurity in the system. But they are not looking at the causes, they want to solve problems. We all know that unemployment is a major reason we have increase in insecurity in the maritime system. Instead of you creating jobs, you are using the money to invest in one Deep Blue Project, buying fighter jets and you think it will work? Use the money you are spending on these assets to create jobs for seafarers. Create an enabling environment for these companies to come to Nigeria and start building vessels. Even the Nigeria-owned vessels are not getting jobs because foreign vessels are taking over their jobs. The insecurity is created by NIMASA themselves.
Jonathan Nicol (President SALS)
They have to start from somewhere. As far as we are concerned, with what we have heard from the recent happenings, NIMASA seems to be making some progress. I think it is a good result. We commend them for what they have done. We expect all other security agencies to put their hands together to fight the menace of piracy and threats to Nigeria. We give our commendation to NIMASA for a job well done. We also read that the Nigerian Navy has deployed some aircraft to go the maritime air space on surveillance, especially in Bonny and the Gulf of Guinea which of course will give them more information about these pirates. When they have certain information, they can pass it unto NIMASA and other security agencies.
John Okpono (General Secretary, NMOWTSSA)
To a certain extent, I will say yes it is sufficient. One good thing about life is that Rome was not built in a day. The Deep Blue assets is to curb these security challenges. As events unfold, we will see how best we can develop and build on this project to curb all other excesses. There is nowhere in the world that you can have a perfect project or solution because as you are bringing in your own initiatives, the people are studying you and seeing your shortcomings. You should also look at these shortcomings to develop and improve on your missions. But for today, we can consider that one as sufficient why we look at the problems of piracy and improve on what is on ground. The Nigerian government, NIMASA and the Nigerian Navy are trying their best to ensure it is reduced to the barest minimum.
Aminu Umar (Ship Owner)
So far, we have seen significant improvement in piracy reduction in the country. I think we should not discount that it has totally reduced and we have seen recently that pirates were prosecuted and justice administered. I think this is a good development in the fight against piracy. So I believe that it will go a long way in curbing this menace of piracy that is happening to us. Since the deployment of the Deep Blue assets, we have not heard about any incidents of piracy in recent times. So I think we have to admit that it is working. I am confident that things are changing seriously.
Captain Deji Abegunde
I have not been following the trend. The only thing I know is that I have not been hearing of attacks for now. It is too early for us to jump into conclusions. Maybe we should still give them more time. As for now, I don't like criticizing something and in another six months, what I criticized is now obsolete. Let's still cross our fingers and give NIMASA more time.
Engineer Matthew Alalade (Former President, Merchant Navy)
They are just starting and since they have started, we have not heard any attack, kidnapping or sea robbery. This means they can contain piracy at the moment. My observation is that we have not had any threat for weeks now. But before we can give accurate information, we should wait for the next six months.
Tunji Brown
The plan to deploy the Deep Blue Assets by NIMASA is a step in the right direction, which has been long overdue. I am very optimistic with a caution because the Deep Blue Assets by NIMASA must be sustained in order to actually curb piracy on Nigerian waters.
Kindly like us on Facebook