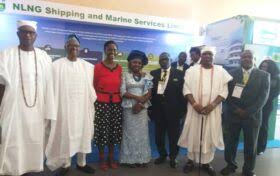 Ambassador Florentina Ukonga, past Executive Secretary, Gulf of Guinea (GoG) Commission, has decried the non-African country participation in maritime transportation.
Ukonga said this at the 2023 Lagos International Maritime Week (LIMWeek 2023) organised by the ZOE Maritime Resources Ltd. in Lagos on Tuesday.
The week has the theme, "MARPOL at 50-Pollution from Ships, Africa's Commitment to Clean Oceans Seas, Inland Waters and the Marine Environment".
The News Agency of Nigeria (NAN) reports that MARPOL is an international convention for the prevention of pollution from ships.
Ukonga noted that Nigeria was among the 26 African countries that had ratified MARPOL but, unfortunately, Nigeria could not be classified as a shipping nation even with the ratification.
According to her, many countries in Africa, though party to MARPOL, are not shipping countries.
"Maritime transportation in Nigeria and in the West and Central Africa is grossly under developed.
"Majority of the ships providing maritime transportation services in West and Central Africa region are from Europe, Asia and the Far East.
"It is a cause of great concern to maritime industry watchers that maritime transportation with so much potential for economic emancipation and the development of the coastal countries is virtually in the hands of non-Africans and solidly in their control," she said.
She noted that goods could not move from one country to the other along the coast of West and Central Africa without first passing through Europe to be trans shipped to Africa.
"Whereas, if the maritime transportation is well developed, even if it is within the region, there should be ships plying these routes stopping in almost all the ports of the region with shorter period of transportation, not exceeding two to five sailing days en route," she said.
She said that being party to MARPOL was a good step in the right direction, at least, African countries would not be turned into the dumping ground for maritime waste, garbage, toxic and hazardous waste.
Ukonga said if Nigeria's maritime transportation sector really picks up, stakeholder would know what standards to aspire, keep and respect for them to be competitive.
"I will like to encourage our entrepreneurs to really invest in maritime transportation, either for goods transportation or for people transportation, especially in inter-state maritime transportation.
"Our African countries are seriously missing in this sector.
"African countries should be involved in the regional maritime transportation sector even if we do not yet want to go to Europe or USA or Asia or the far East," she said.
Ukonga also notef that there would not be a vibrant maritime transportation if there was no maritime security or safety.
She added that on maritime security and safety in the GoG region, the commission was involved in the important aspect of ensuring piracy attacks, robbery at sea, kidnappings, oil theft, smuggling, trafficking in arms, were addressed.
"The organisation has been a strong advocate with member states for cooperation and collaboration amongst their navies, coast guards and other maritime security agencies to ensure the security and safety of their maritime domain.
"Member states are being encouraged to harmonise their legal texts to enable them arrest and prosecute persons engaged in criminal activities in the maritime domain of the region.
"Member state are responding positively and there is now a greater cooperation and collaboration among the Navies and Coast Guards of Member States," she said.
She, however, said there was need for more concerted efforts to be made to encourage indigenous investors to become more interested and more involved in the maritime sector of the economy.
She urged governments to create the enabling environment by providing the necessary infrastructure and enacting legislation that would protect local investors.
"We should stop being content at having remnants from the table. We should help to bake the pie and have a fair share of the pie," she said.
Earlier, Chairman, Zoe Maritime Resources Ltd., Mrs Oritsematosan Edodo-Emore, noted that the sustainable development of the ocean economy was key to African growth.
According to Edodo-Emore, the cleanliness of the body of waters surrounding Africa and the state of its inland waters, creeks and rivers are critical for her survival.
"Its now 50 years since the enactment of MARPOL that deals with prevention of pollution of the marine environment by ships and this event seeks to examine its effect on maritime transportation, security and others.
"We also welcome the creation of a seperate ministry to take charge of maritime affairs and we look forward to active engagement with the new ministry as she seeks to bring solutions to challenges," she said.
LIMweek is a platform for learning, networking, expanding ones scope and others in the maritime sector.