Investigations carried out by Shipping Position Daily correspondents over the past two weeks have revealed that the space underneath the popular Liverpool bridge in Apapa which used to be for food vendors and also serves as a market, has become a haven for prostitutes, drug peddlers and petty robbers who randomly pick their victims on daily basis.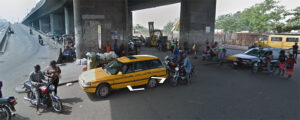 Our reporters who carried out the undercover investigations confirmed that the Liverpool under bridge 'red zone' now houses more prostitutes than traders. In addition, there is open display and consumption of banned drugs and several unregistered alcoholic herbal mixtures.
Our correspondent noted that the Liverpool under bridge has now become a preferred choice for truck drivers, clearing agents, okada riders, and military personnel, who are desirous of cheap pleasure.
It is common to see military men and Police personnel among those who are openly drinking and playing with the prostitutes.
During the first week of our reporters' visit, some of the prostitutes were seen openly smoking and drinking alcohol with their 'customers' as they laughed and gave eye signals to those who sat directly opposite them.
During our visits which spanned about two weeks, various uniformed personnel were sighted, either smoking Indian hemps, purchasing banned drugs or patronizing prostitutes.
In one of the days our correspondent visited, two ladies who sat directly beside each other invited our correspondent to come sit with them and relax as they gave a warm and receptive smile.
The following day, when our correspondent revisited, one of the girls who are in the early 20s asked our correspondent to buy her a bottle of canned beer. In return, she opened up on life and living under the Liverpool bridge.
Taking our correspondent for a 'customer', she asked: "Do you lodge around here, or you be motor boy", to which our correspondent responded that he was a clearing agent working for a boss who is presently out of town.
She further asked, if our correspondent was there just for the drink or for further pleasure later in the night, our reporter responded that he was for both. She then gave a breakdown of hotels around the vicinity and how much they charge per night.
When our correspondent further probed her on how she got to know the rates of the hotels, she said in pidgin English and referring to clearing agents: "No be your people they carry us there, but you people are stingy unlike truck drivers, those ones they do normal, you people don't like to pay better money".
Asked how much she will charge per night, our correspondent gathered that some prostitutes charge as much as N25,000 for one night, depending on the bargaining power of their customer.
Our correspondent also confirmed from another source under the Liverpool bridge that the frequent attack on motorists and others on the bridge and around the Tin Can 2nd gate axis is perpetuated by street urchins from under the bridge.
This was further corroborated by one of the prostitutes who had now become friendly with our correspondent.
The prostitute even warned our correspondent not to come back late in the night because of robbery. She told our correspondent not to come too late, stating that some of the boys drinking and smoking under the bridge always rob unsuspecting members of the public of their valuables on top the bridge late in the night.
She said, "If you will come back, please don't come very late, some of these boys when it's around 9pm, are always on the bridge, they will 'pick pocket' you before you know it, some will even hijack your phone and flee. So please come on time before I will follow another person".
On why drugs and Indian hemp are taken openly under the bridge with no fear of being arrested, our informant laughed and asked if it is not those who would arrest that are also under the bridge indulging in the same crime.
She added jokingly, "this place is like Fela shrine, they don't arrest people in Fela shrine for smoking weed, even Police and Soldier come here, so who will arrest us".